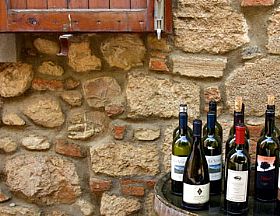 Tuscany is one of the world's most renowned wine regions, with miles of vineyards. Who hasn't heard of Chianti or Brunello di Montalcino? Despite its fame, the region's vintages account for only about 7% of Italy's wine production, but within this one area they have 39 DOC designated wines and 11 DOCG designated zones.
Chianti remains its most famous wine, and there's no doubt that the area from which it gets its name is one of Tuscany's most postcard-perfect places, with rolling hills, golden-hued hill towns, and that dreamy filtered light that shines there. Chianti has always had its various levels, from basic table wine (think straw-wrapped bottles) to well-aged and refined vintages, but more quality control and pride in production have upped the stakes all around to bottle and sell better wines.
The most famous red wines in Tuscany are all comprised of the same grape, Sangiovese, either on its own or blended with other varietals. The best-known white wine is Vernaccia di San Gimignano. Here's a primer on the most common Tuscan wines.
CHIANTI. Synonymous with Tuscany, the Chianti region lies between Florence and Siena, with towns like Castellina in Chianti, Greve in Chianti and Radda in Chianti all charming and worth visiting, not just for the wine-sipping. When it comes to the vino, there are levels of Chianti:
Chianti: Normal table wine, made of at least 75% sangiovese grape with up to 25% other grapes allowed, including white grapes like trebbiano. Chianti Classico. Must be produced in the designated central Chianti zone and must be composed of at least 80% sangiovese, with the remaining grapes usually canaiolo or ciliegiolo, though international grapes like merlot or cabernet are allowed if grown in the designated zone. Some producers opt for 100% sangiovese, though rare. It must be aged at least 12 months in oak barrels and have at least 12% alcohol. Chianti Riserva. Same as Chianti Classico for composition but must be aged at least 2 years in oak barrels and then refined at least 3 months in the bottle. Alcohol must be at least 12.5%.
Chianti zones: There are several production zones which are distinguished. Colli Aretino, around Arezzo; Colli Fiorentino, around Florence; Colli Senesi, around Siena; and Colli Pisani, around Pisa.
BRUNELLO di Montalcino. Made from 100% sangiovese, this is considered one of Italy's finest wines and one that ages well, improving with age. In fact, 5 years of aging and bottle refining is considered "young" by Brunello standards. Regulations require 2 years oak aging and 6 months bottle refining before it can be released, but drinking Brunello immediately after it's released isn't usually done. It is produced in the area around the town of Montalcino.
VINO NOBILE DI MONTEPULCIANO. Not to be confused with the grape varietal and wine Montepulciano, which is produced in Abruzzo, Vino Nobile di Montepulciano is made from sangiovese grapes and must be produced in the area of the town called Montepulciano in southern Tuscany. This is the vintage that helped raise Tuscany's wine reputation, and has been produced and renowned since at least the 1500s. While the bulk is sangiovese, it is also blended with canaiolo or mammolo, up to 20%. It must be aged at least 2 years in oak barrels, 3 years for the riserva. Again, it is a wine that is usually kept aside for several years before drinking as it improves with long aging.
MORELLINO DI SCANSANO. The southern part of Tuscany also produces notable wines, like this DOCG from the town of Scansano. Morellino also starts with sangiovese, blended with canoiolo, ciliegiolo, or alicante.
MONTECUCCO DOC. Another sangiovese-based blend that might contain ciliegiolo or cabernet, aged a minimum of 18 months in oak barrels and refined at least 6 months in the bottle before being released. It is a DOC vintage, produced in southern Tuscany.
CILIEGIOLO. An antique grape varietal named for its cherry fragrance and flavor tones, usually used to enhance other wines, but is used on its own to produce a nice vintage in the Maremma zone.
CANAIOLO. An antique varietal that has been used in Tuscan since at least the early 1300s; blended into sangiovese based wines for depth.
WHITES
VERNACCIA di SAN GIMIGNANO. The best known white wine in Tuscany is produced around the beautiful town of San Gimignano. It has been widely produced and known since 1276. The vernaccia grape makes a dry, golden, fruity wine.
ANSONICA. Made along the Costa d'Argentario, this white is crisp and fruity, from the micro-climate around Mt. Argentario and the Isola di Giglio.
ELBA DOC. From the island of Elba, this nice white matches well with the Tuscan coastal dishes. Made from trebbiano and ansonica or vermentino.
VIN SANTO. A classic dessert wine, its name means "holy wine," perhaps because it was originally used as communion wine (one theory says). It is made from grapes that have been left to dry on the vine, almost raisins, then pressed and aged. Usually made from trebbiano and malvasia. Some producers use non-oak barrels, like cherry or chestnut. Sometimes it is "fortified" with grape spirit (like Port is), in which case it is referred to as Vin Santo Liquoroso.
Been there? Done that? Share your experience and tips!
Haven't visited yet? Have questions about Wines of Tuscany? Ask them here!