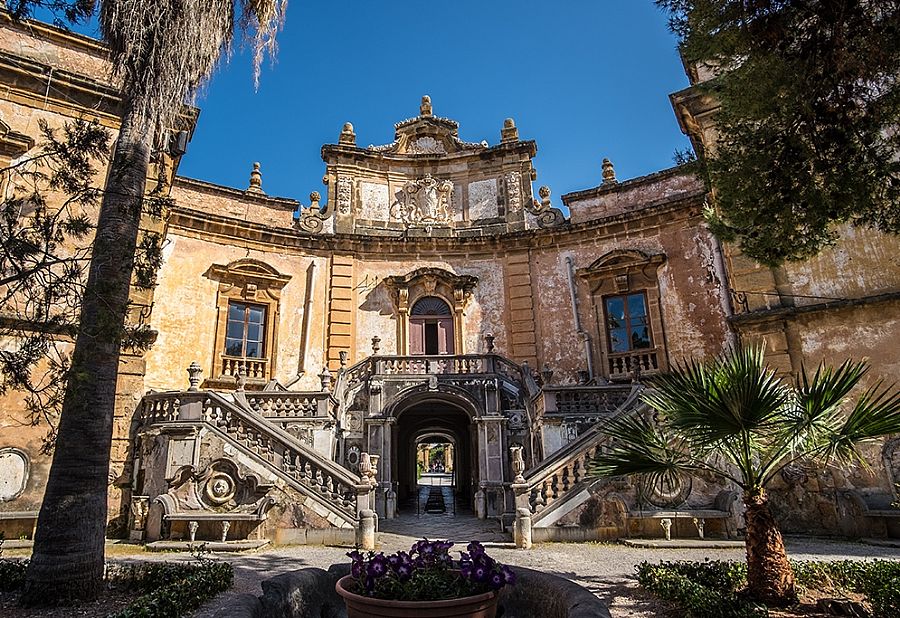 One of Sicily's strangest and most visited sights is the Villa Palagonia, known as the Villa of Monsters. The villa's constructed was commissioned in 1715 by noble Don Fernando Gravina under the direction of architect Tommaso Napoli. The villa would be a getaway for the aristocratic family. In 1749 Francesco Ferdinando II Gravina inherited the villa and went about adorning it with the grotesques that have made it famous, though his motives for the commissions are unclear. It was constructed at the edge of town, but is now in the center of Bagheria.
The statuary carved in "tufacea d'Aspra" stone depict anthropomorphic figures, dames and knights, caricatures and fantastical beasts and fierce animals. They stand watch on walls, rest on archways, and line up along the walkway. They are an impressive sight, and have captured the imagination of generations of visitors. The eccentric villa has been featured in films and TV shows in Italy, most notably Baaria and L'Avventura. Despite the oddity and concentration of the sculptures, they represent a unified design and a symmetry that was planned by the architects.
A triumphal arch-like entry gate leads to the avenue lined with statues. There are 62 today, but originally there were 200! It must have been a particularly frightening sight for children!
The villa itself is a beautiful display of Sicilian baroque style. The unique double-flight staircase transports you into an elliptical vestibule known as the Hercules Room, where the walls are frescoed with the feats of Hercules. From there, a staircase leads to the piano nobile where the family resided, which includes a Hall of Mirrors, where the ceiling is composed of reflective mirrors, while the coloreod glass and marble-lined walls enhance the effect. Marble mosaics and reliefs depict the "keepers of the beasts" and their wives, as well as ancestors of the Gravina dynasty. There is a chapel and billiard room, as well. The salons and bed chambers aren't open to the public as the villa is the private residence of the Castronovo family, who bought it in 1885 after the Gravina family line become extinct.
No trip to the Palermo area is complete without a visit to the Villa of Monsters!
Been there? Done that? Share your experience and tips!
Haven't visited yet? Have questions about Villa Palagonia? Ask them here!
Address in Bagheria:
Piazza Garibaldi, 3.
Ph. (+39) 091 932 088.