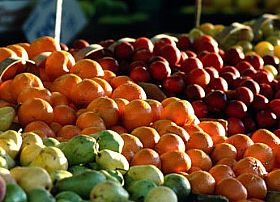 It is the latest trend: locally grown and sold food. The short supply chain and local markets in Tuscany.
True open-air food shops whose motto, "from the producer to the consumer", is a guarantee of quality and money saving, and where the organically-grown culture is deeply rooted. We are talking about farmers' markets.
In Tuscany, it is a widespread phenomenon. The best ones are known as Mercatali, a pilot project by Regione Toscana aimed at creating markets where products are not only sold but even described by the producers in person, whether farmers, breeders and craftsmen.
There are at least ten Mercatali in Tuscany, of which five nearby Arezzo. The best known is the Mercatale of Montevarchi, held in Piazza Varchi (second Saturday of the month, 8 am – 1 pm). The stall of the 'Consorzio di Cetica e degli Agricoltori Custodi' is very temping. It offers local products like: red potatoes of Cetica – reddish skin and very white inside - ideal to make tortelli and gnocchi, but great even fried! Zolfini beans – tender, with a very thin skin- are typically boiled with a few sage leaves and peppercorns; the small Chianti chickpea – with strong taste, skinless, is excellent if boiled with a sprig of rosemary; the Nesta apple – so crunchy and fragrant that farmers used to use it to perfume houselinen (it keep till Easter period); Valdarno chicken that, bred and fostered for 6-8 months in the open air, are just delicious is stewed.
Some other appreciated Mercatali in Tuscany are the following:
A "real" milk bath
There is nothing better than rediscovering the taste of freshly milked milk. In Tuscany this is possible thanks to recently installed special dispensers.
Here is where you can find them:
Cascina (Pisa), via Rio Pozzale, 179. Located inside the Azienda Agricola Manattini.
Castelnuovo di Garfagnana (Lucca), Piazza della Repubblica. Milk from Garfagnana area supplied by: Azienda Agricola Tardelli Graziano (Molazza), Azienda Agricola Rocchiccioli Vittorio (Castelnuovo di Garfagnana), Antica Fattoria del Cesaron di Pellegrini Ivonne (Camporgiano).
Montale (Pistoia), Piazza San Giovanni XXIII, 13. Inside the Votino Fedele Suermarket. Breeder: Azienda Agricola La Casaccia, Loc. Casaccia 69, Quesciola Lizzano in Belvedere (Bologna).
Montepulciano (Siena), Via Lauretana Nord, 74. Located in a farm along a fast flowing provincial road, easily reachable, with a big parking area. Breeder: Azienda Agricola Tufo Mirella.
Piancastagnaio (Siena), Viale Giuseppe Vespa, 7.
Been there? Done that? Share your experience and tips!
Haven't visited yet? Have questions about Tuscan Farmer Markets? Ask them here!