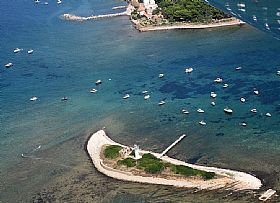 All along the Campania coast there are places that harken back to Greek legends, dating back to the days when this area was part of Magna Grecia. Take in the beautiful scenery and the salt air with a walk that follows the path of the sirens, from Santa Maria di Castellabate to its sister village of San Marco, and beyond to Punta Licosa.
Punta Licosa derives its name from the Greek 'Leucosia', who is said to have been one of the three sirens (or mermaids) mentioned by Homer in his epic Odyssey, whose songs lured sailors to shipwreck on the rocks. Odysseus had to be tied to the mast to keep from succumbing to their melodic allures. The mythical Leucosia, after failing to bring destruction to Odysseus, was thrown into the abyss of the sea and washed up on an island, which was named after her - hence, Punta Licosa.
Start at the sandy Pozzillo Beach in Santa Maria and walk along the coast to the port of San Marco, about four kilometers. Just behind the Hotel L'Approdo you'll find the mule track path called "Vaddunatuto" that will take your through lush Mediterranean foliage above the shoreline with the undulating waters of the sea on one side and the forested hills of the Cilento National Park on the other. After about three kilometers you'll reach Punta Licosa. Here you'll find a pretty lighthouse, which sits on a tiny island just off the rocky shore, which stands guard and keeps sailors from shipwrecks- by sirens or storms. Jagged rocks jut from the water. Punta Licosa is a marine reserve rich in archeological finds. The ancient port is intact, submerged beneath the waves, testimony of the area's importance as a Greek colony.
Been there? Done that? Share your experience and tips!
Haven't visited yet? Have questions about The Path of the Sirens? Ask them here!