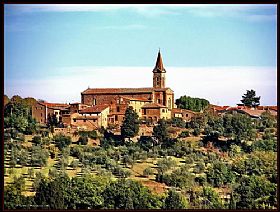 On the edge of the Chianti zone, Tavarnelle Val di Pesa has a history of hospitality. Its very name derives from the latin word for "tavern" which was a place to find lodgings, food and rest, and to change horses on a long journey. The town occupies some of Tuscany's most classic countryside of rolling hills marked by olive groves, grape vines and rural farmhouses and chapels that are sprinkled around. Tavarnelle Val di Pesa was a strategic stop-over and trade town, especially when it came under the domain of the Republic of Firenze in the 12th century. It is located about half-way between Florence and Siena and skirted the confines of those two republics. Today, the economy depends on agriculture and winemaking along with tourism. The church of Santa Lucia al Borghetto was a Franciscan monastery from the 1200s built in Gothic style. The church of the Madonna della Neve has frescoes from the 14th and 15th centuries. There are lots of hill towns and castles throughout the surrounding area, and Greve in Chianti, along with the other Chianti towns, are nearby. It is located in proximity of Certaldo and Castelfiorentino.
Nestled in the Chianti hills, Tavarnelle Val di Pesa is located half-way between Florence and Siena. It was a historic crossroads and stop-over point on the main route between the two republics and the road that lead to Rome, and provided a point of hospitality for lodging, meals and stables for travelers in the Middle Ages and Renaissance periods. In fact its name derives from the word "taverna" - the type of inn that provided a variety of services to travelers. It is one of the few medieval villages without fortifications.
The Badia di Passignano is an historic monastery that dates back to 395 and is still an active monastic community of the Vallombrosiano order, a reformed Benedictine monastery. The monastery has been known for centuries for its classical texts and music and was a school for Galileo. It is also known for its wine cultivation; today you can visit the cantina and taste the wines as well as dine in a restaurant at the Badia. The church has frescoes by Domenico Cresti, who is called "Il Passignano" as well as two works by Ghirlandaio. The large complex resembles a castle.
In town is the church of Santa Lucia al Borghetto which was built after St. Francis of Assisi paid a visit to the area in 1220. It is a rare example of Gothic architecture in the area. There is a nice shop called Made in Chianti that sells locally made artisan products.
Tavarnelle comprises several small villages under its jurisdiction, including San Donato in Poggio. It is located in the picturesque Chianti region of Tuscany where the hills are staked out with grapevines and patched with olive groves and small woods. It is a beautiful area where hill towns are sprinkled around and sunlight enhances every view. There are country farmhouses, gorgeous villas and art-filled churches all over Chianti.
Tavarnelle Val di Pesa is just minutes to Radda in Chianti, Greve in Chianti and San Casciano. The best wineries in Tuscany are nearby. The interesting towns of Certaldo, San Gimignano and Poggibonsi are nearby, and of course the art capitals of Siena and Florence are easily reached, as well.
Been there? Done that? Share your experience and tips!
Haven't visited yet? Have questions about Tavarnelle Val di Pesa? Ask them here!
Explore nearby towns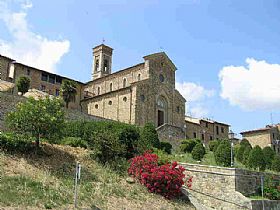 Barberino Val d'Elsa, nearby Florence, is an ancient medieval village built as a consequence of the destruction of Semifonte, an old and glorious town in the same area.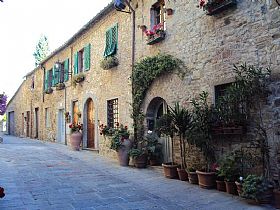 San Donato in Poggio has an interesting history as the "last stop" on the Florentine frontier before the Republic of Siena's border.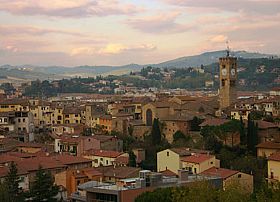 Poggibonsi, in the heart of Valdichiana, is one of the classic Tuscan dream places, rich in culture, art and tradition.