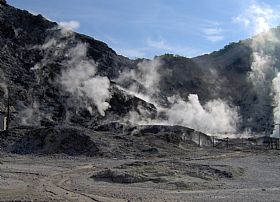 Solfatara di Pozzuoli is doubtless the most interesting dormant volcano of the whole Phlegrean Fields: a huge district north of Naples composed by about forty volcanoes. All around this area you will find great tourist attractions, like the Flavian Amphitheatre, Cuma Acropolis, Serapide's Temple and Thermal Baths of Baia. Thirty-three hectares of magic naturalistic oasis which offers cues for interesting walks among the famous volcanic phenomena, known as fumaroles, mofettes and mud volcanoes, along with vast woods and Mediterranean maquis areas, characterized by natural, geological, botanic and faunal singularities.
The Sofatare di Pozzuoli will give you the opportunity to enjoy an interesting walk immersed in a wonderful verdant zone, away from the chaos of the city. Private cars as well as touristic buses are provided with a large parking area nearby the entrance: it is a pedestrian route.
Several signals accompany the visitors along the journey and provide information about the innumerable natural peculiarities. The visit at the Solfatara could boast very ancient origins as it was a must see and stopping point of the "Grand Tour": the traditional and educational travel of Europe undertaken by mainly upper-class European young men of means, whose custom flourished during the XVII century.
The visit will last about 45 minutes and an equipped refreshment area will let you relax after the walk. During the micro-tour you will be able to observe two surprising phenomena, such as the vapour condensation and the echoing of the ground. You will appreciate the vapour condensation just bringing a low flame near to the fumarole. The vapours will gradually appear more and more intense as the small solid particles produced by combustion and the ions in the atmospheric gases near the flame act as nuclei of condensation of the vapour.
Another incredible phenomenon is the one caused by dropping a stone on some particular points of the crater: even if you do so from a little high you will hear some deep echoes as if the stone was falling into huge deepnees. The truth is that this natural phenomenon is caused by micro cavities made by the fumaroles' gases into a porous soil.
The main turistic attractions are: the Fangaia (mud bath), the Bocca Grande (big mouth), the Pozzo dell'acqua minerale (mineral water well) and the Vecchie Stufe (old stoves).
Been there? Done that? Share your experience and tips!
Haven't visited yet? Have questions about Solfatara di Pozzuoli? Ask them here!