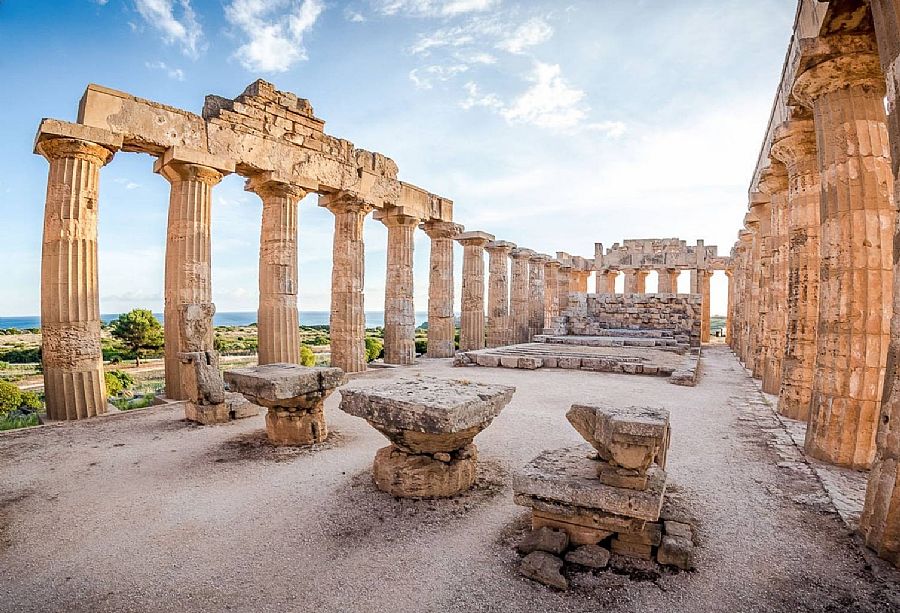 Sicily hosts many remains from the ancient Greek era, but few people know that it is home to the largest archeological park in Europe, and it's not the famous sites like Taormina or Agrigento, but Selinunte. Located in southwest Sicily roughly between Sciacca and Marsala, the park extends over nearly 300 hectares (740 acres), includes seven temples, an ancient ceramics manufacturing facility, and incredible views.
Selinunte is steeped in legends that it was home to gods and giants and Homeric heroes. Dating from 650 BC, it was a flourishing civilization with thriving commerce and political ties to Carthage and Greece. It was a prosperous colony with an acropolis, artisans and export trades. It was sacked by Hannibal in 409 BC, who it is said left only women and children alive. Repopulated, it was caught between Rome and Carthage in the Punic Wars and declined. Despite its sufferings and earthquakes in the Middle Ages, the temples and other sites managed to survive the millennia in decent shape, and now make up the largest archeological park in Europe.
The park is extensive; plan for more than an hour for a superficial visit, longer for a more indepth exploration. You can rent golf carts or hop on the trenino (tourist train) to help you get around. Besides the seven temples, be sure to visit the Artisanal Quarter, which was a full-fledged ceramics manufacturing center, the largest production "factory" of the ancient world, where archeologists uncovered seven kilns, an artisan area, a large area to dry the clay products before firing, and a road that connected it to the sea for export. Also noteworthy is the Cava di Cusa, a stone quarry that was carved out to provide the stone to build the temples. Spend the day and then enjoy sunset from the elevated location.
The Parco Archeologico di Selinunte is open daily from 9:00 AM til 6:00 PM.
Been there? Done that? Share your experience and tips!
Haven't visited yet? Have questions about Selinunte Greek Remains? Ask them here!
Address in Sciacca:
Via Selinunte, Marinella di Selinunte.
Ph. (+39) 092 446 277.