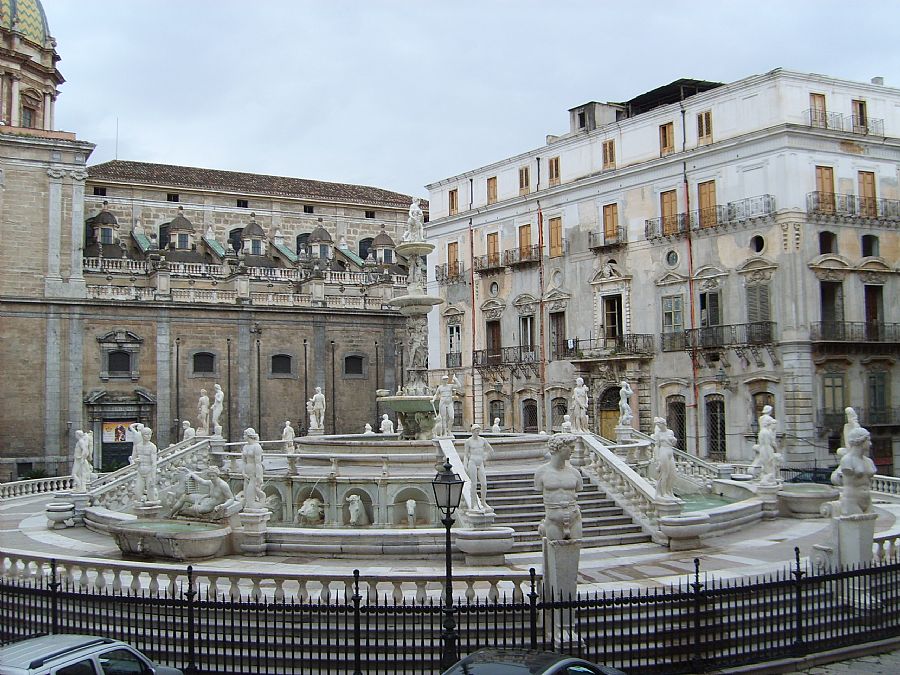 The extravagant piazza in the center of Palermo is Piazza Pretorio is home to the city's delightful fountain and other architectural gems. Named for the Palazzo del Pretorio, which was the ruling seat of power, the piazza was given a dubious nickname- Piazza of Shame.
Outlined on three sides by buildings, the piazza is a beautiful space with its landmark fountain at the center of attention. Carved from Carrara marble, it was originally created for a palace in Florence, but the Sicilian senate purchased it and shipped it here in pieces. To reassemble it and place it in the piazza required dismantling several existing buildings. But that wasn't the "shame" that was born here. One legend says it was the sculptures -nudes- that were deemed so scandalous that nuns from the adjacent convent stole out one night and broke off offending parts. Another legend holds that Queen Giovanni d'Angio' was the shame-inducing party, having entertained her lovers in one of the piazza's noble palaces. However, the more likely source is the Palazzo Pretorio itself, the center of government that came to be seen as the center of corruption.
At the back of the piazza is the church of Santa Caterina, though its main entrance is beyond in Piazza Bellini. The church was under seemingly perpetual renovations and enlargements, and thus bears a blendings of styles that include Renaissance, Baroque and Rococo. Walk inside and behold the decadent decorations -it is a veritable explosion of mosaics, marbles and majolica, festooned with stuccos and frescoes. Truly a breathtaking sight!
Palazzo Bonocore was a noble palace, that houses a cultural heritage museum. Palazzo Pretorio was also known as Palazzo delle Aquile and is home to the town hall; a visit takes you through the sumptuously decorated halls, but take the tour to the underground, where a WWII bomb shelter was discovered. The facist regime built it in the 1930s as a precautionary chamber, anti-bomb and anti-gas, with the tunnel going right below the piazza. It had a ventilation system, running water and three bathrooms, along with escape routes and a hermetic seal. It accommodated more than 500 peoples under the strict rules of silence during the Allied bombings of the city.
After your visit, walk behind to Piazza Bellini and enjoy a coffee at the historic Caffe' Ideal, in business since 1928, where they're scupulous about their caffe!
Been there? Done that? Share your experience and tips!
Haven't visited yet? Have questions about Piazza Pretoria Palermo? Ask them here!
Address in Palermo:
Piazza Pretoria.