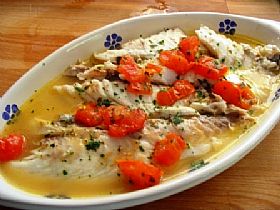 Traditionally attributed to Neapolitan origins, this dish is also found around Campania and Lazio regions. Fish is crazy water is an amusing name, which legend holds comes from the fact the dish was prepared by fishermen on their boats with just-caught fish and seawater, along with a few other things thrown in for flavoring. The usual sauce is made with white wine, cherry tomatoes, capers and olives,. The fish filets simmered in this sauce come out moist and delectable. Use any white fish filets, like sea bass, grouper, snapper, halibut, sole or trout.
PESCE ALL'ACQUA PAZZA - FISH IN CRAZY WATER
2 fish fillets, such as bass, snapper, halibut, trout
Extra-virgin olive oil
3 cloves garlic, smashed
About 2/3 cup cherry tomatoes, sliced in half
1 handful of parsley, minced
1/2 cup or so of white wine
1/2 cup water
Salt and papper
Red chile flakes
1 TBSP capers
A handful of black olives
Preparation: In a large skillet, heat the olive oil. Add the garlic, tomato pieces and parsley. Saute about a minute then gently add the fish fillets on top, pour in the wine and water, enough to come up about half-way on the fish (not covering them). Sprinkle with salt and pepper, toss in the capers and olives. Cover and cook about 20 minutes, depending on the thickness of the fish. Stir the sauce and spoon over the fish every now and then, adding more wine and water as necessary to keep it from drying out. Serve with the sauce spooned over top.
Been there? Done that? Share your experience and tips!
Haven't visited yet? Have questions about Pesce all'Acqua Pazza? Ask them here!