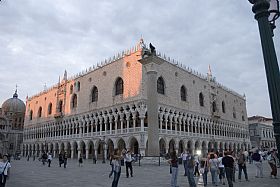 The commanding presence of the Doge's Palace occupies a prime spot on the Grand Canal next to St Mark's Cathedral and Piazza San Marco. The beautiful building was the seat of power during the epic days of the Republic of Venice. For centuries, it was the home of the rulers of the Most Serene Republic, as well as the venue of its court and government. For more than one thousand years, Venice was ruled by an elected officials known as a doge, deriving from "duke," who were elected for life. This was thought to bring stability to the government and discourage the whims and greed of temporary officials.
The castle-like structure was built in the ninth century but underwent significant modifications in the late 1300s, making it an imposing and impressive palace in a unique Venetian version of Gothic style. The grand main entrance was on the waterfront side, known as Porta della Carta (Paper Gate) because paper decrees of the city were posted there. Its design makes use of white limestone and pink marble, with porticos, loggias, balconies and decorative stone work that looks like lace. Stone patterns on the upper level look like tapestry. The overall effect is of a solid castle but elegant and light. The capitals of the columns are adorned with animals and flowers, while the entrance leads into a cavernously large courtyard.
The Scala dei Giganti (staircase of giants) leads to the loggia where the doges were crowned. A sprawling hall for balls and receiving dignitaries is decorated with four Tintorettos. A museum contains some of the palazzo's treasures. Tours are available that include a walk across the Bridge of Sighs and a visit to the famed prisons on the other side.
After St. Mark's Cathedral, the Palazzo Ducale is the most recognized building in Venice, used as a residence and seat of government until 1797 when the Republic of Venice surrendered to Napoleon. It's a must-see on any visit to Venice.
Been there? Done that? Share your experience and tips!
Haven't visited yet? Have questions about Palazzo Ducale? Ask them here!
Address in Venice:
Sestiere San Marco, 1.