Bridge of Sighs - Ponte dei Sospiri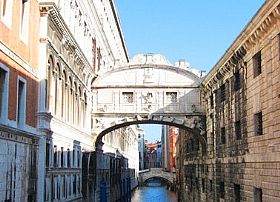 The Bridge of Sighs is one of Venice's beloved landmarks, shrouded in mystery and legend. The graceful arched structure was built in 1600 to link the Doge's Palace with the building across the canal, which held the Republic's prison. The decorative passageway is built of white limestone and bears carvings and embellishments. It is completely enclosed and has stone lattice-like screens over the windows, purportedly put there to conceal the prisoners (as well as the executioners) from public view.
The prison was famously called the piombi (the leads) because of its lead-lined cells. Casanova was a prisoner who notoriously escaped from the "leads" in 1756 and wrote about it in his memoirs. Most prisoners met other fates, and the story says that their wistful sighs upon crossing the bridge on the way to their executions gave it the name "Ponte dei Sospiri" ("Bridge of Sighs"). The semi-obscured view through the lattice was their last glimpse of the lagoon, causing them to sigh in despair.
Others hold that it has a more romantic connotation and that the sighs come instead from lovers who, passing under it, exchange kisses and amorous sighs of satisfaction in gaining everlasting love, for this legend holds that those who kiss in its shadow are ensured a destiny together. Many a Venetian (and foreign) couple have become engaged while floating in a gondola below the beautiful bridge.
While it's visible from the water and nearby footbridges, the Bridge of Sighs can only be visited as part of the Secret Itinerary tour of the Doge's Palace, a 90-minute guided visit that includes the palace itself, the prisons, the torture chamber, and other secret rooms not normally open to the public. The tour must be reserved in advance at the museum or online.
The Bridge of Sighs in only one of about 400 bridges over the maze of canals in Venice, but it's one of the most recognized and romantic, too!
Been there? Done that? Share your experience and tips!
Haven't visited yet? Have questions about Bridge of Sighs - Ponte dei Sospiri? Ask them here!