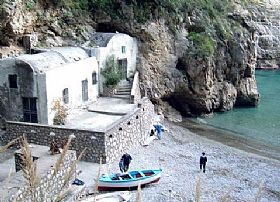 Marina di Crapolla is certainly one of the most striking spots along the Sorrento and Amalfi Coasts, but also one of the less visible and easily accessible. A deep gorge, from 30 to 40 metres, with a beautiful shingles beach whose back shows the remains of the ancient fishermen's village that used to be there. The village had Romans origins and was called Capreole – probable contraction of "Acra Apollonos" (Apollo's promontory), because of a small temple built in honour of the god.
The western side of the inlet shows the ruins of a Roman Villa, with reticulated work walls, arches, vaults and a cavity wall probably needed to let the rivers Viarito and Crapolla flowing down to the sea. The Romans abandoned the village, which regained importance during the XI century, thanks to the construction of an imposing abbey a few metres above the beach, that housed the macaronic poet Teofilo Folengo, in the first half of 1500. Unfortunately of the past rich building, nowadays we can only admire a small chapel dedicated to St Peter. The enchanting landscape of the fiord and ancient houses is sadly quite degraded and would deserve important reclamation works... anyway the beach worth a visit without any doubt!
Marina di Crapolla is reachable from Torca or Sant'Agata sui Due Golfi, both districts of Massa Lubrense, going downhill for about 350 metres. The easiest path starts from Sant'Agata, while the starting point from Torca looks a bit uneven. In both the cases, after walking for about 1 kilometre, you will have to step down 667 stairs to get to the beach. The view is mesmerising, you will see all at once the six islands of Amalfi Coast: Gallo Lungo, Rotonda, Castelluccio, Vetara, Isca and Scruopolo. If the descent is hard but doable in 45 minutes, you will find definitely tiring to go back, so please do not do it during the hottest summery days. By sea, in order to single out the fiord you should focus on the island of Isca. Coming from Positano, you will find a tight entrance to the beach a few dozens of metres before.
Been there? Done that? Share your experience and tips!
Haven't visited yet? Have questions about Marina di Crapolla? Ask them here!