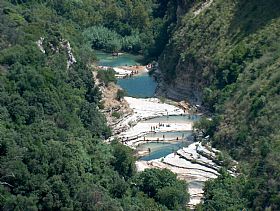 The Laghetti di Cavagrande is a natural oasis outside the city of Avola. Situated in a canyon along the Cassibile River, the rocks and hollows of the waterway form small, natural lakes of refreshing cool water. Designated as a nature preserve in 1990, it encompasses some ten kilometers of protected park, that includes the woodlands, the canyons and the river.
It is located south of Siracusa near Avola and Gallina. Enter the nature park and you'll find yourself in a refreshing paradise among rocks and woods. There are colorful butterflies, flitty dragonflies, cute hedgehogs and lots of chirpy birds to accompany you on the trails. If the walk to the river and a dip in the lakes isn't exciting enough for you, there are some other interesting sights that you hike to. An abandoned Byzantine village, and the archeological site of Cassibile with its necropolis are for the history-minded. The Grotta dei Briganti is for romantics and Indiana Jones types who don't mind braving the cliff-hugging trail to arrive at the cave complex excavated in the rocks. The series of 10 caves were used as a refuge and hide-outs, first for the Byzantines, then the Arabs, and then the briganti, who hid in the hills while robbing and acting as hired mercenaries. For amateur spelunkers, the real "cava grande" of the park is called Dieri, a natural cavity with walkways through the rock, a fascinating spot.
To get to the laghetti (little lakes) follow the path marked "Scala Cruci". You'll have to descend the steep canyon to the valley floor, but it's worth the trip!
TIP: Wear sturdy shoes! Sandals and flip-flops won't work on these trails. You'll need shoes or hiking boots to access these sites.
Been there? Done that? Share your experience and tips!
Haven't visited yet? Have questions about Laghetti di Cava Grande? Ask them here!