Florence for Fashionistas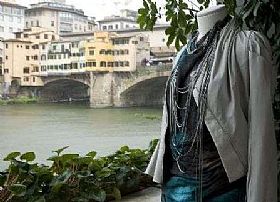 While Milan gets the super-model cat-walks and Rome gets the reputation of sophistication, Florence has a few finds for the fashion world, too. With centuries of stylish trends to draw on, there are vintage trends and modern designs to tickle your every fancy.
Saskia Wittmer; (Via Santa Lucia Tel. +39 055 293 291). Florentine with German origins, this visionary designer has achieved her dream of becoming a well-respected shoemaker here in Florence. Her workshop handcrafts every pair to fit your foot and exactingly designs every detail of each unique pair of shoes she makes. The bustling workshop is busy, despite the six months wait and the 2,000 price tag. Every color shade and shape is possible, and off-beat materials are sometimes used for eccentric effect (perch skin, anyone?)
Pola Cecchi (Via Jacopo Diacceto Tel. +39 055 284 269). Gauzy and feminine evening gowns and over-the-top hats are the specialties of Pola Cecchi, daughter of designer Giulia Carla (whose creations are exhibited into Galleria del Costume in Florence). With one of the oldest and most respected names in the Florence fashion world, Pola does not throw anything away; she loves recycling old stuff and takes an ecological approach for surprising, sometimes bizarre and yet chic results!
Grazia Giachi (Via Borgognissanti, 6R – Tel. +39 055 285 064). You can't leave Florence without visiting Grazia Giachi, supplier of fine linen and intricate embroidery, who supplied luxurious lingerie and table coverings to the likes of the Kennedy family and Penelope Cruz. You could spend hours perusing the pretty things in the small studio in Florence, as well as the workshop in Mercatale Val di Pesa or the shop in Greve in Chianti. You'll never find a missed stitch or off-color detail in these perfectly produced pieces. Giachi herself has sewn sews sheets, table clothes, dresses and trousseau, since she was eight. Her nightgowns and nightdresses are so well-made that Penelope Cruz uses them as evening dresses!
Madova Gloves (Via Guicciardini 1/R - Tel. +39 055 239 6526). In business in a little shop between the Ponte Vecchio and the Pitti Palace since 1919, Madova makes one thing and one thing only: leather gloves. In fact, they're the only shop in Europe that makes and sells this singular item. It's run by the grandchildren of the founder, who still use quality leather and merino wool for lining to handcraft the luxuriously silken fits-like-a-skin gloves - and at prices that the normal shopper can afford!
Antico Setificio Fiorentino (Via L. Bartolini, 4 – Tel. +39 055213 861). If you can find your way to the hidden street of Via Bartolini, you'll discover a silk factory with stunning 18th and 19th-century looms - both hand-worked and semi-automated ones- at work creating thousands of fabrics. This is the kingdom of brocades, damask, velvet and outstandingly soft and light silks. Every fabric here gives off a lights and colors using strictly natural aniline-based dyes to tint them, following traditions dating back a few hundred years. Chemical products and dye finishing are strictly avoided in this marvelous workshop.
Officina Profumo Farmaceutica di Santa Maria Novella (Via della Scala, 16 – Tel. +39 055 216 276). The officious-sounding name of this soap and profume producer belies its 400 years of history. The wood, gilt and fresco accents of the building are reason enough to visit, but the sumptuous bath products that are made and sold within are the key to the longevity of the place. They make soaps, creams, shampoos, cosmetics and profumes using "recipes" that are unchanged since the 17th century. There are also herbal tinctures, candles and a museum to peruse.
Elio Ferraro Factory Outlet (Via del Parione 47/R - Tel. +39 055 290 425). Vintage designer duds and retro furnishings are the specialties of this outlet that also carries the collection of the designer namesake of the shop. You'll find throw-backs to all the fashion eras here.
Been there? Done that? Share your experience and tips!
Haven't visited yet? Have questions about Florence for Fashionistas? Ask them here!