Church of Santa Maria del Popolo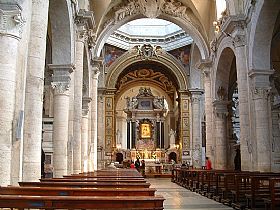 The monumental Piazza del Popolo hosts three churches dedicated to Mary. The most impressive is Santa Maria del Popolo, a veritable art history lesson packed with priceless works by Rome's most prominent artists.
The church is of the Augustinian order, built at the Porta Flaminia, where the ancient gate opened to the Via Flaminia, one of the major, important Roman roads, where it departed the capital city through the Aurelian wall. Originally built in Romanesque style, it was reconstructed in the 1470s in the early Renaissance; the facade was given a Baroque facelift in 1650s by Bernini, who also designed the apse. Bernini provided sculptures, bringing the Biblical figures of Habakkuk and Daniel to life, as well as providing angels who hold up the organ balcony.
Pinturicchio painted the Nativity and a lovely faced girl whose portrait is known as the Volta del Coro (face of the choir). He also painted the vault frescoes. Bramante redesigned the choir loft. Raphael designed the important Chigi Chapel and painted the Creation of the World in the dome. Annibale Carracci designed the Cerasi Chapel and painted the Assumption of the Virgin which hangs in it, though the main draw to the Cerasi Chapel is Caravaggio, whose two paintings, The Crucifixion of St. Peter and The Conversion of Saul, are moving.
The church also contains the oldest stain glass window in Rome.
Santa Maria del Popolo is one of the most important churches in a city full of churches - for the artwork contained within. The Piazza del Popolo is located near the Tiber River, to the west of the Piazza di Spagna and the Spanish Steps.
Been there? Done that? Share your experience and tips!
Haven't visited yet? Have questions about Church of Santa Maria del Popolo? Ask them here!
Address in Rome:
Piazza del Popolo.