Basilica of San Pietro in Vincoli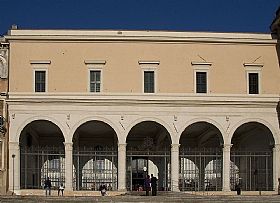 A minor basilica with some big treasures, Saint Peter in Chains is a common stop for faithful pilgrims. The church was originally built around 440 AD then renovated several times through the centuries as styles changed. But the ties that bind are still here, namely, the chains said to have bound St. Peter when he was held in the nearby Mamertine Prison awaiting his crucifixion. The chains are on display in a reliquary below the main altar.
The lofty interior has marble fluted columns capped by Doric capitals, lined up along a wide nave. The coffered ceiling was applied by Francesco Fontana in 1705. A colorful mosaic depicts St. Sebastian while frescoes adorn the half-dome above the altar.
The main draw, aside from the chains, of course, is the realistic and muscular statue of Moses sculpted by Michelangelo from a single block of white marble. The beautiful statue exudes power and awe, as Moses just descended from the Mount bearing the Ten Commandments under his right arm. An oddity is that he appears to have horns; some say it was a mis-translation of the original text, others claim that Michelangelo purposefully put them there to denote power. Flanking him are statues of Rachel and Leah, designed by Michelangelo and completed by his pupils.
The church has an active congregation, and two popes were elected here: Pope John II in 533, and Pope Gregory VII in 1073.
The Basilica of St. Peter in Chains is open daily from 7:00 AM til 12:30 PM and from 3:30 PM til 7:00 PM. After seeing the reliquary, visit the Mamertine Prison, to get a view of where St. Peter was held, near the Forum. The church is just a few steps from the Colosseum.
Been there? Done that? Share your experience and tips!
Haven't visited yet? Have questions about Basilica of San Pietro in Vincoli? Ask them here!
Address in Rome:
Piazza di San Pietro in Vincoli, 4a.