Archeology Park and Canyon Cava Ispica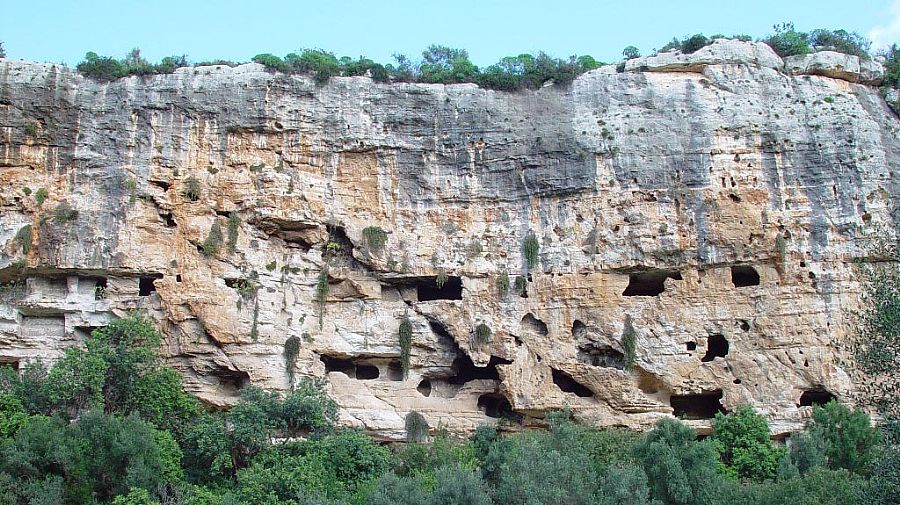 One of Modica's fascinating sights is the Cava d'Ispica, a long canyon filled with caves and archeological sites. It is an open-air museum of sorts, with traces of millennia of history along the way, from the Bronze Age through the late Middle Ages.
The canyon slices through the landscape for 13 kilometers, between Ispica and Modica, and is 100 meters deep in some places, and a half-kilometer wide. Along the way it contains prehistoric necropoli, eary Christian catacombss, cave churches and dwellings, monastic hermitages, and historic hamlets. All told, this hidden canyon holds traces of human presence here from pre-history through 1693.
Highlights include frescoed grottoes, Arab-Norman cave homes, remains of a Greek gymnasium, and the monumental catacombs called La Larderia, a fascinating cavern that holds 464 tombs excavated into the rock, in use from the 3rd century BC through the 5th century AD.
The area near Ispica contains the medieval settlement called Spaccaforno, the original "town" of Ispica. The archeological site spreads over three hectares (acres) with remains from various eras. The medieval era remains include the Palazzo Marchionale, the Church of the Annunziata, and the most intriguing -the Centoscala - a long tunnel-staircase of 280 steps that takes you 50 meters below the river! There is also an Antiquarium museum that houses artifacts uncovered at the site.
The Cava d'Ispica has entrances near Ispica as well as near Modica. Visit the Archeology Area Ispica's website for more information.
Been there? Done that? Share your experience and tips!
Haven't visited yet? Have questions about Archeology Park and Canyon Cava Ispica? Ask them here!
Address in Ispica:
Cava d'Ispica Sud.