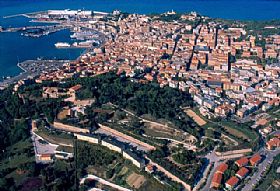 The primary city and regional capital of Le Marche is Ancona, a bustling and sprawling city on the Adriatic Sea. It is the region's largest city with 103,000 inhabitants, but can also feel like a smaller town when you're in the historic center. The mostly-modern city offers shopping and services, and the Marche's only airport, along with a major seaport with ferries around the Adriatic.
The historic center is crowned by the hilltop cathedral dedicated to San Ceriaco, a Byzantine-Gothic blend of styles with sweeping views, built over the remains of a pagan temple. Greek settlers founded Ancona and Roman remains are scattered about, too. Piazza Anfiteatro is a good place to see the footprint of the old Roman amphitheater that once served the city. The Archeological Museum is housed in a 16th century palazzo graced with frescoes, with neolithic, Etruscan and Roman artifacts to trace the area's history.
At the port you'll find three arches from different era: Trajan's Arch, a Roman monument, Clement's Arch, built in honor of Pope Clement, and Porta Pia, the Baroque monumental entry gate. Piazza del Plebiscito is Ancona's hang-out spot with cafes and concerts; at its end is the impressive church of San Domenico, a Romanesque structure with art by Titian and Guercino hidden inside.
A fancy fountain, the Fontana del Calamo, is a line-up of thirteen masked spouts. The hilltop Parco del Cardeto offers green space with sea breezes and sea views. And don't miss the Art Gallery, with masterpieces by Titian, Crivelli, Lotto, and more.
Ancona is a jumping-off point for the spectacular Conero Coast, and just a few minutes outside the city you can enjoy hiking, horse riding and biking, as well as water sports.
Been there? Done that? Share your experience and tips!
Haven't visited yet? Have questions about Ancona? Ask them here!
Explore nearby towns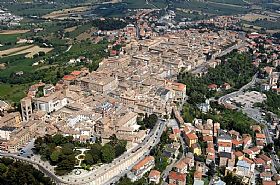 Occupying a hill near Ancona, Osimo is a monumental town with breathtaking views.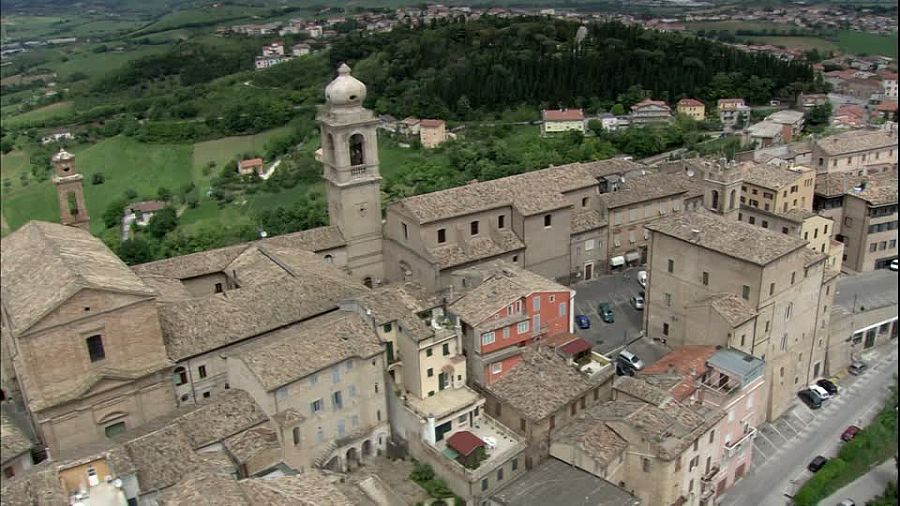 A pretty brick-built town in Le Marche, Castelfidardo sits on a rocky spur at the foot of the Conero Promontory.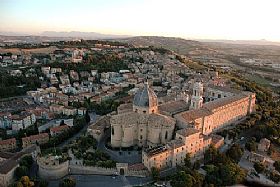 The unmistakable dome of Loreto stands out can be seen on its hilltop for miles around.