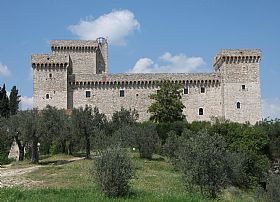 Albornoz Fortress rises imposingly on top of Narni, overlooking the gorges of river Nera. It is part of that fortresses' system that became garrisons of papal state in the XV century. Cardinal Gil de Albornoz was indeed charged with the hard task to reconquer the areas closest to Rome to pave the way for the return of the Pope (who had escaped to Avignon, in France). The cardinal achieved the conquest and built gorgeous fortresses in strategic positions. The so-called Rocca di Narni is located in fact in the middle of a very important communication network, among Perugia, Terni and Amelia.
The fortress has a quadrangular plant with four towers at the corners. It is surrounded by a moat and a second boundary wall. Walls and towers, still retain their corbels, hold a splendid courtyard reachable from two elegant portals: the court is beautifully adorned with two blocks and lovely stairs that access the first floor, where it was the residence. The donjon represents the biggest tower, 20 ells long, with four floors and a basement.
The fortress was erected in 1367, over the ruins of a military settlement built for want of Frederick I Barbarossa. The works ended in 1378 and many illustrious architects of that time, like Ugolino I di Montemarte and Matteo Gattapone, contributed to make it so marvellous. The fortalice has been residence of popes, cardinals and leaders from 1370 to 1449, when a plague epidemic forced Nicholas V to shelter in the fortress. While there, Nicholas began a series of works to enlarge the defensive structure; the works were continued by Pope Innocent VIII and Sixtus V, until the end of Quattrocento.
The Rocca has stood off numerous attacks until 1798, when, the proclamation of the Roman Republic and the Pope Pius VI's escape, a French troop stripped the fortress of its weapons to take the guns.
From the XIX it was used as prison and, in 1906, sold at ridiculously low price to the Russian prince Mestschezsy. In 1972 was bought from a Roman family, but it now is a public property belonging to Narni and its province.
You will be able to reach the Rocca on foot, through the characteristic Via del Monte, or by car following directions of Via Flaminia to Rome, then turning leftwards.
Get in touch with Albornoz Fortress to request more info
Your message has been sent to Albornoz Fortress.
Please note that requests are sent directly to Albornoz Fortress. It will be their responsibility to promptly answer and get back to you with further information.
Been there? Done that? Share your experience and tips!
Haven't visited yet? Have questions about Albornoz Fortress? Ask them here!
Address in Narni:
Via Feronia.