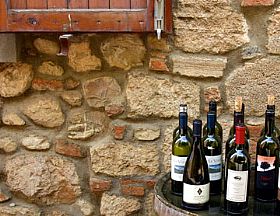 The Puglia region accounts for 17% of Italy's wine production, making it "the California of the peninsula" when it comes to numbers of bottles produced. The region boasts 25 DOC designation varietals, along with other traditional table wines.
Negroamaro. The rock star of red grapes in Puglia, this is the most prestigious of their wines. It has ancient roots here, dating so far back that it's uncertain if the vines were brought by the Greeks or if it was a native cultivation by the local tribes. Negroamaro is used to produce Salice Salento DOC and Brindisi DOC along with other Puglian blends. Garnet colored with violet streaks, it gives off a cherry and jammy fragrance with a warm medium-bodied flavor with good tannins. It's most prevalent between Lecce and Brindisi.
Primitivo. Some say the Primitivo grape dates back a few millennia while others hold that it was brought to Puglia by Benedictine monks in the 1600s. Studies in California show that it has the same genetic structure of the Zinfandel grape, so it was transported across the ocean by emigrants and planted in the New World. Whatever the case may be, it's now fully established around the region, where sun-soaked Puglia nurtures the grapes and produces a soft, fruity but dry and full-bodied wine.
The Sun-soaked Salento has warm winds that inhibit the growth of mold while the extremes between daytime and nighttime temperatures let the grapes concentrate the sugars to produce a full-bodies and strong wine (14% alcohol!).
White varietals are rarer but not unheard of. Trebbiano, Malvasia and Verdeca are the most common grapes used, and the whites go well with the region's abundant seafood.
Been there? Done that? Share your experience and tips!
Haven't visited yet? Have questions about Wines of Puglia? Ask them here!