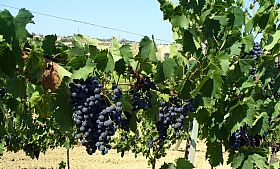 Campania basks in the abundant sun of southern Italy, putting its position between the sea and the mountains to good use in wine-making. Thanks to the climatic conditions and unique soil compositions here , the region has enjoyed a long and illustrious oenologic tradition. It is known that the ancient Romans came down to this area they considered a summer playground and sipped the fruits of the region's vines, which were already long established. In fact, most of the local varietals were transported here by the Greeks during their great colony era of Magna Grecia. Writers such as Horace, Virgil and Pliny sang the praises of the Campania wines.
The area around Mount Vesuvius produces distinct vintages, thanks in part because of the volcanic soil but also because vintners have shunned international varietals, opting instead to "stay local" and focus only on heritage grapes to produce their noteworthy wines. The reds are full bodied while the whites are fruity and complex with character.
Typical Campania Wines
REDS
Taurasi - made from the Aglianico grape, it has blackberry and cherry notes and is full-bodied, dry and balanced.
Piedirosso - a unique grape found ony in this area, the wine is brilliantly ruby-colored with a smoky, cherry fragrance but a smooth plum and cherry taste.
Cilento Red - a blend of Aglianico and Piedirosso it combines the best of both grapes; grown in the sun-drenched hills facing the sea south of Salerno.
WHITES
Fiano di Avellino - It has a straw yellow color from which its name derives (fieno means stray), with a fruity, lemon-tinged aroma and a dry but fruity flavor.
Greco di Tufo - Perfect for the seafood specialties of the area, it has lemon and pear notes but is crisp and dry.
Falanghina - A pale golden color smells of Mediterranean florals and citrus and gives off a taste of apples and vanilla.
Been there? Done that? Share your experience and tips!
Haven't visited yet? Have questions about Wines of Campania? Ask them here!