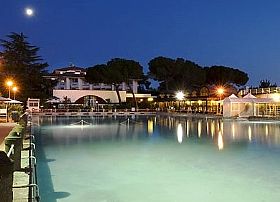 The soothing thermal baths of Viterbo have been frequented for a couple of millennia. The hot springs bubble from volcanic activity but have a mythical provenance. It is said that the god, Hercules, was passing through Etruria and was challenged by Lucumons to demonstrate his legendary strength. He hurled a stake into the ground knowing no one could remove it but himself. When he won the challenge and pulled out the stake, boiling water bubbled forth, called "bulicante" in Italian, and the name stuck; today one of the most popular springs is still called Bullicame.
The Etruscans knew and utilized these springs, and the Romans built luxurious public baths to take advantage of the hot, mineral-rich water. They even engineered a thermal water line ten kilometers long. Dante mentioned the Viterbo spas in his famous Divine Comedy. It became famous as the "spa of the popes," who for centuries frequented the healthful waters for curative and relaxation purposes. Popel NIccolo' V went so far as to build a papal residence here for himself and future pontifs in need of rest and tranquility.
The water flows forth from the ground at a temperatures ranging between 58 and 66 degrees centigrade (136-150 degrees fahrenheit) and is fed into several pools. The water is rich in sulpher, magnesium and other minerals said to cure many ailments and skin conditions. Mineral-rich mud is used as a beauty treatment. There are free areas that open-air natural bathing spots, including the famous Bullicame spring, along with Bagnaccio and Piscine Carletti. Each has a parking area and and have pools amidst nature. There are also several spa and health centers where indoor tubs and pools collect the spring waters, and where a host of beauty and health treatments can be had.
Viterbo is in the northern Lazio zone known as Etruria. It's an area rich in natural beauty, where traces of the Etruscans mingle with monumental remains of the Romans, where the incredible charm of medieval hamlets blend with sumptuous Renaissance and Baroque buildings. Viterbo itself has a well-preserved medieval core, while nearby towns like Tarquinia, Ferento, Civita di Bagnoregio, Caprarola, and Soriano nel Cimino are fascinating places to explore.
appreciated by the people of the time) had divine origins. According to the legend, Hercules, passing in Etruria, was challenged by the Lucumons to show his legendary strength. The hero drove a huge stake into the ground so that none could take it out but him. When he did take the the stake out, the ground squirted out lots of boiling (Italian bulicante) water – that gave the name "Bullicame" to the source.
Been there? Done that? Share your experience and tips!
Haven't visited yet? Have questions about Viterbo Thermal Spas? Ask them here!