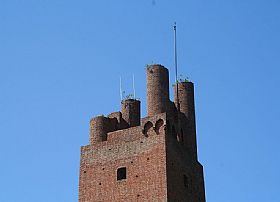 The lovely town of San Miniato near Pisa is full of Medieval charm, but also has a distinctive high-rise landmark, a tower built by Frederick II.
At the top of the town on the highest hill is the defensive structure built by the Holy Roman emperor to guard the seat of of his imperial financial administration for central Italy. There was already a fortress here in Roman times, but in the Middle Ages when this area of Tuscany became a strategic crossroads, it grew in importance and the tower was built as a look-out on a site that was already in a natural defensive location on the hilltop. Walls were added for further protection.
The tower rises 37 meters high with a slight trapezoidal shape with cylindrical brick columns topping it, showing the workmanship of the skilled labor used to construct it. With its location almost equidistance from Volterra, Pisa, Lucca and Florence, this was a key point of observation, and from the top of the tower you can see the entire surrounding area, all the way to the Apennines and the Mediterranean Sea. It was also at the crossroads of Tuscany's two most important roads at the time, Via Quintia and Via Francigena.
Abutting the circular-shaped wall that encircles this tower, Frederick II built a second circular wall that descended the hill and included another tower, Torre di Matilde, now used as the bell tower for the cathedral. But the most attention (and best views!) go to the Torre Federiciana up above.
An inscription on the tower reported that the Imperial Chancellor Conrad of Spira was the superintendent at the tower building. Besides a watch point, it was also used as a prison for political dissenters. At 10:30 PM, on July 23 1944, the retreating Germans, mined and razed it to the ground. The tower was faithfully reconstructed in 1958 by the architect Renato Baldi and engineer Emilio Brizzi and is open to the public.
Been there? Done that? Share your experience and tips!
Haven't visited yet? Have questions about Tower of Frederick II? Ask them here!
Address in San Miniato:
Viale don Minzoni.