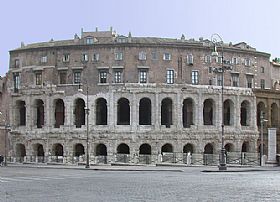 On the banks of the Tiber sits the Teatro di Marcellus, a living piece of history that is still inhabited. The oldest Roman theater still in existence, it was commissioned by Julius Caesar before his assassination. It was an unpopular project, as Caesar expropriated private property and damaged the nearby Temple of Apollo to start the construction. Only the foundation had been laid before his death. The project was taken up by his successor, Caesar Augustus, the great builder of Rome, who was careful to repair the damaged temple and who paid for the theatre's construction with private funds. When it was inaugurated in 13 BC, it was the largest theater ever built in the Roman Empire.
The Teatro di Marcellus was dedicated Marcus Marcellus, the nephew of Augustus who died a few years before its completion. It was built of tuff, brick and concrete then faced in travertine. The semi-circular structure was supported by vaults and columns and boasted arches, tunnels and ramps to facilitate access of mass numbers of people at once. It could seat more than 11,000 spectators, who came to see the dramas, music, and dance performances. The first row of seating was reserved for the senators.
There was little backstage space due to the geography of the zone, so Augustus enlarged the nearby Porticus which was renamed for his sister Octavia and decorated it with art and sculpture, to inspire the performers. The famed "Medici Venus" in the Uffizi Gallery was salvaged from this site, and Portico d'Ottavia later became the gateway to the Jewish ghetto.
It fell into disrepair after the fall of Rome, but in the Middle Ages was used as a fortress. The Savelli family acquired it in 1368 and made extensive renovations, removing the top tier of seating and turning it into opulent apartments, using the building as their palazzo, Baldassarre Peruzzi Palazzo. It passed to the prestigious Orsini family in the 1700s and remained in their care until it was divided off in the 1930s.
Today, it's an excellent example of ancient construction still in use. The lower level displays the columns and form of the theater, while the medieval fortress walls are visible from its use as a defensive structure. The upper flowers show off the high windows and adaptations of the palazzo, which is still inhabited by wealthy Roman families. More than 2000 years of history are still alive in this one building!
Been there? Done that? Share your experience and tips!
Haven't visited yet? Have questions about Theatre of Marcellus? Ask them here!
Address in Rome:
Via del Foro Piscario.