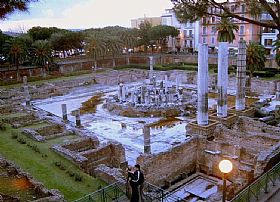 The edifice known as "Temple of Serapis", in virtue of the the discovery of a statue representing the Egyptian god during the XVIII century, was actually a public market (called Macellum in ancient times), located at the centre of the commercial city-quarter. A quadrilateral area with a portico supported by granite and cipolin pillars, surrounded by shops with alternating indoor and outdoor openings. Four huge pillars where in front of every single cell. A circular podium with Corinthian pillars supported a trabeation and a conical cupola. There used to be a fountain at the centre, surrounded by statues and African marbles.
This "Macellum" (food emporium) must have been really impressive for all the eastern merchants coming to the Augustus land for the first time. Melting pot of races, goods, cults, rites... this was the exceptional role of the ancient Puteoli! The temple owes its notoriety even to the bradyseism: it should be considered indeed the real "thermometer" of this rare phenomenon. The date mussels' perforation (Lithodomus lithophagus – mussels able to bore holes in solid limestone) of the cipolin Corinthian pillars (11,78 metres high) shows how deeply the edifice was submerged.
The sea, the port, as well as the remains of the Caligula's pier and submerged ruins of Via Herculea are clearly visible from the temple. The Macellum prevails anyway with its beauty. Tired and discoloured marbles make a fascinating enclosure, the floor is finally dry and the glitter of eastern golds make this monument breathtaking: pillars like skeletons without the spirit of divine simulacrum. A temple of timeless stones, marked by the tremors of a restless land.
The temple is open every day except of Tuesday, from 9 am to one hour before the sunset.
Ticket price: about EUR 2.50 (including the visit to the Flavian Amphitheatre).
Pozzuoli is located at 15 Km from both north-western Naples and airport of Naples Capodichino.
By car: from the highway A1, take the junction to Tangenziale Est.
By train: SEPSA line (Cumana railway).
By bus: SEPSA lines. Toll free number: 800-001616 (from Italy).
By underground: FFSS from Naples. Stop at Pozzuoli-Solfatara.
Been there? Done that? Share your experience and tips!
Haven't visited yet? Have questions about The Temple of Serapis? Ask them here!
Address in Pozzuoli:
Via Serapide, 1.