The Natural Hot Springs of Saturnia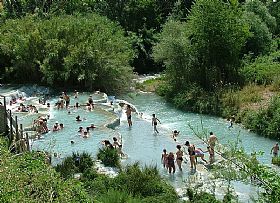 The natural hot springs of Saturnia have been drawing visitors for millennia. Saturnia is a picturesque and historic town that caps a hill among olive groves in the southern part of Tuscany known as the Maremma. But while the town has Roman ruins, a well-preserved castle, and loads of atmosphere, the name Saturnia is associated with the town's main attraction rather than the village itself.
The entire area is endowed with sulfur-rich springs thanks to the volcanic activity of Monte Amiata. Saturnia is sort of a hot spring theme park, where natural thermal waters gush from the earth and pour over rocks, creating steaming waterfalls and natural pools, where health-seekers can soak amidst the lovely landscapes of rocks and woods. The water is said to cure many skin conditions and health ailments, while the resulting river mud is said to soften skin and keep it youthful.
Saturnia's springs have been appreciated since Etruscan times, but it was the Romans and their penchant for opulent baths that turned it into a proper and popular spa. The via Aurelia, one of the famous Roman roads, transported affluent visitors from the capital city. Ruins remain to testify of its one-time grandeur. Nowadays, the bubbly baths attract tourists from all over the world, drawn to its natural beauty and unique hot spring cascades.
There are several areas around the area where visitors can access the hot springs freely; if you prefer a more spa-type experience, you can visit one of the centers that offer indoor soaking pools, massage, facials and other spa treatments.
Saturnia is located near Pitigliano, Sorano and Grosseto.
Been there? Done that? Share your experience and tips!
Haven't visited yet? Have questions about The Natural Hot Springs of Saturnia? Ask them here!