The Excavations of Stabiae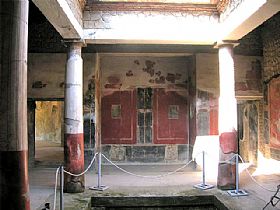 The only definite news about Stabiae - Latin name of the current Castellammare di Stabia - are the ones found into the ancient residential villas built on the tableland of Varano, the rustic villas of the countryside and the necropolis in via Madonna delle Grazie.
This place's been inhabited from the VIII century BC, as shown by the funeral trousseaus. During the VI century BC the city imported Greek handiworks, but also Etruscan imitations. The Etruscan domination lasted until the arrival of the Samnite population, when the city joined the Nucerina Confederation.
The Romans took the place of Samnites, after a long battle, in 308 BC) and Stabiae, probable "oppidum" (fortified town), reached a notable importance. In fact, the Roman Stabiae has functioned as very important strategical and commercial point for a long time.
The major gathering of people should be set between the first destruction at the hand of Silla (89 BC) and the eruption of Vesuvius (79 AC). In this period, the northern edge of the hillock of Varano got embellished with stunning villas in panoramic positions, with a flourishing development building, thermal spas, porticoes and delightfully decorated nymphaea.
The eruption buried Stabiae along with Pompeii and Herculaneum. The city got back to life after 40 years, when it was built the military column recently found into the ancient street that linked Stabiae with Nuceria.
Throughout the ages, thanks to the constant work of engineers and workers from all over Europe, have been found entire residential districts, among which the most notable are two Roman villas:
Villa San Marco, situated on the eastern side of the hillock of Varano, was found by the Bourbons in 1749, but excavated only in 1754, once plundered of the most precious things and re-buried. Here you'll see fantastic mosaic works and panoramic breathtaking views.
Villa Arianna, located in proximity of Villa San Marco, is the oldest villa among the other local ones. The construction, dated back to the II century BC, used to be connected to the underneath port through ramps and galleries. You can still admire this stunning example of Roman architecture, by visiting the various rooms in which you'll find splendid decorations and frescoes representing birds, human beings and the local nature surroundings.
Been there? Done that? Share your experience and tips!
Haven't visited yet? Have questions about The Excavations of Stabiae? Ask them here!