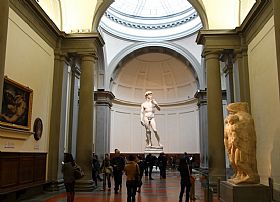 Yes, this museum is famous because of a singular sculpture, but don't miss the other works of art here. The Museo dell'Accademia di Belle Arti -more popularly known just as "the Accademia"- draws throngs of visitors from all over the world, intent on seeing the original monumental sculpture of David by Michelangelo. And rightfully so; it is a magnificent masterpiece. Sculpted over a three-year period from pure white Carrara marble, the enormous statue was placed outside the Palazzo Vecchio, Firenze's city seat, came to symbolize the power of Florence.
The Accademia itself was established in the 1700s by the Grand Duke Leopoldo as a fine arts academy with an accompanying gallery. He installed many works from his own collection as models and examples for students to study. The collection continued to grow; David wasn't moved here until 1873. There are four other Michelangelo sculptures, which had been created to adorn the mausoleum of Pope Julius II, and are less known but not much less impressive than David.
The gallery houses many treasures, including Giambologna's plaster model for the Rape of the Sabine Women, the intricately-carved sculpture found in the Loggia dei Lanzi, carved from a single block of marble. There are grand panels by Perugino, Filippino Lippi, Ghirlandaio, Botticelli and Bronzino, not to mention an entire room dedicated to the 14th century painter, Giotto, and his pupils.
There is much to see here so don't rush through just to gaze at David; save that impressive sight for last!
RESERVATIONS ARE HIGHLY RECOMMENDED! Book in advance to make sure you get in and to avoid waiting hours in line. Reserve online here. The museum is open from 8:15 AM til 6:30 PM; closed Mondays.
Been there? Done that? Share your experience and tips!
Haven't visited yet? Have questions about The Accademia Gallery? Ask them here!
Address in Florence:
Via Ricasoli 66 .
Ph. (+39) 055 215 449.