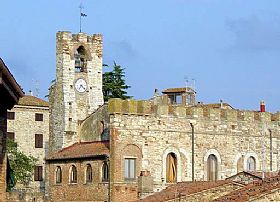 Suvereto may just be the perfect town; it's certainly one of the most charming villages in the Tuscan Maremma. Dating back to before 1000, it was once the domain of the Aldobrandeschi family. Here, time seems to stand still; its alluring old architecture and exposed stonework is still intact. The web of alleys and stairs circle up toward the fortress. Located in the low hills, it's just far enough inland to escape the Saracen raids, but close enough by modern roads to get to the seaside in a few minutes.
Outside town are forests with the tree variety that apparently gave the town its name: the cork oak (Quercus suber). The oaks and chestnuts groves mingle in a country patchwork with cultivated fields, vineyards and olive groves. Suvereto is still encircled by its ancient walls and punctuated by imposing towers. This picturesque village has interesting historical sites like the ruins of the ancient Rocca tower or the Suvereto Castle, built in the 10th century but taken over and heavily fortified by the Aldobrandeschi. There are numerous churches, including the ancient church of San Giusto with the adjoining Museum of Sacred Art. The Doll Museum pays homage to a handicraft that has been practiced here since the early 1800s.
The City Hall in Suvereto is in an impressive Medieval building dating back to 1200. It is flanked by an old clock tower, built to symbolize the town's freedom from the dominating Aldobrandesci obtained through the Charta Libertatis. The Cloister of San Francesco is a charming spot with its archways and is the site for concerts and events. The nearby national park of Montioni was once the residence of Elisa Bonaparte.
The festas are good fun. There is a wine event called the Calice delle Stelle (wine under the stars), and an opulent medieval marriage feast in July. The Ex-tempore is a fine arts event with artists and performers from around the country. They celebrate the porcini mushrooms with a festival dedicated to the delicacy in August.
The nearby Costa degli Etruschi is a nature-lover's paradise with long stretches of undisturbed beach and azure water. The Maremma is known as Tuscany's "wild west" - with real cowboys tending livestock, a laid-back atmosphere and a feeling of authenticity beyond the tourist hubs.
Been there? Done that? Share your experience and tips!
Haven't visited yet? Have questions about Suvereto? Ask them here!
Explore nearby towns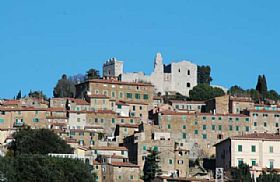 In the hills of the Costa degli Etruschi (Etruscan Coast) is the pretty town of Campiglia Marittima, in Tuscany's unspoiled Maremma region.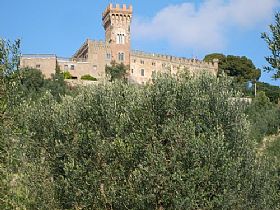 Just inland from the "Etruscan Coast" of Tuscany, Venturina rests between the sea and the hills.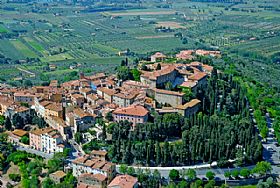 Along the Etruscan Coast, on a hill that overlooks the hills and sea, Castagneto Carducci is a small town gem.