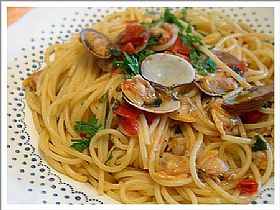 Spaghetti with clams is a Neapolitan classic. It uses fresh clams and just a few other ingredients to flavor the dish. Forget the image you might have of overcooked noodles drenched in thick tomato sauce with a few clams swimming in it; this is a light and tasty dish bursting with fresh clams. There's no cream or butter, either, so it's a healthy plate of pasta, too! There is debate about whether or not to add a few fresh tomatoes; many Neapolitans swear it's the "right" way, others insist that "in bianco" (white) sauce is the real deal. In short, it's a matter of taste! In Campania, they use baby clams known as "veraci" which might be hard to find where you live. Just get the smallest ones you can find. Frozen clams are okay, too (but don't tell that to a Neapolitan!)
Spaghetti alle Vongole (Spaghetti with Clams)
INGREDIENTS:
1 kilo (about 2 pounds) of fresh baby clams
2 cloves garlic, minced
a dash or two of red chile flakes
1 cup white wine
a handful of parsley, minced
1 pound (about 400 grams) spaghetti or linguini

PREPARATION:
If the clams haven't already been cleaned, you'll need to soak them in heavily-salted water for a couple of hours to clean out the grit. Drain and rinse them well.

In a pan large enough to hold the clams heat the olive oil and lightly saute the garlic, red chile flakes and about half the parsley until garlic begins to color. (You can also add 6-8 quartered cherry tomatoes if you wish.) Add the wine and bring to a boil. Add the clams, cover, and cook until they open up, about 10 minutes.

Meanwhile, bring a large pot of water to a boil and cook the linguini or spaghetti until al dente. Drain and return to the pot. Add the clams and wine, drizzle on a bit of olive oil, and sprinkle in the parsley, tossing it all well. Serve.
Been there? Done that? Share your experience and tips!
Haven't visited yet? Have questions about Spaghetti alle Vongole? Ask them here!