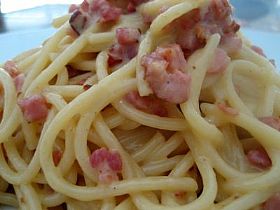 While Romans claim it as their own -it's ubiquitous on menus in the Eternal City- this dish actually originates from the mountains of Abruzzo along the Lazio border. It's very name gives it away - "carbonara" means charcoal maker; the men who lived high in the mountains and maintained a long, slow flame under piles of logs to burn them down to useable charcoal would spend long lengths of time away from civilization. They would cook with simple ingredients that were readily available or didn't spoil. They had chickens for eggs, cured meat, and dried pasta, and thus this dish was born.
INGREDIENTS
¼ pound guanciale, pancetta or bacon, diced
3 eggs
½ cup grated Pecorino Romano cheese
Salt and freshly grated pepper
1 pound (500 grams) spaghetti
PREPARATION
Boil the spaghetti in abundant water that has been salted. While the pasta is cooking, brown the bacon in a skillet. Once it has cooked, remove it to paper towels to drain. In a bowl, beat the eggs until well blended; stir in the grated cheese, a pinch of salt and grated black pepper to taste.
When the pasta is cooked to al dente, drain, reserving about 1/2 cup of the cooking water. Place the spaghetti in a large serving bowl and pour on the egg mixture. Stir it quickly to mix well; the heat of the pasta cooks the eggs and creates a creamy sauce. Add a bit of cooking water if necessary to get the right sauce consistency. Add the bacon pieces, top with more grated cheese and serve.
Been there? Done that? Share your experience and tips!
Haven't visited yet? Have questions about Spaghetti alla Carbonara? Ask them here!