Santa Maria al Bagno Nardo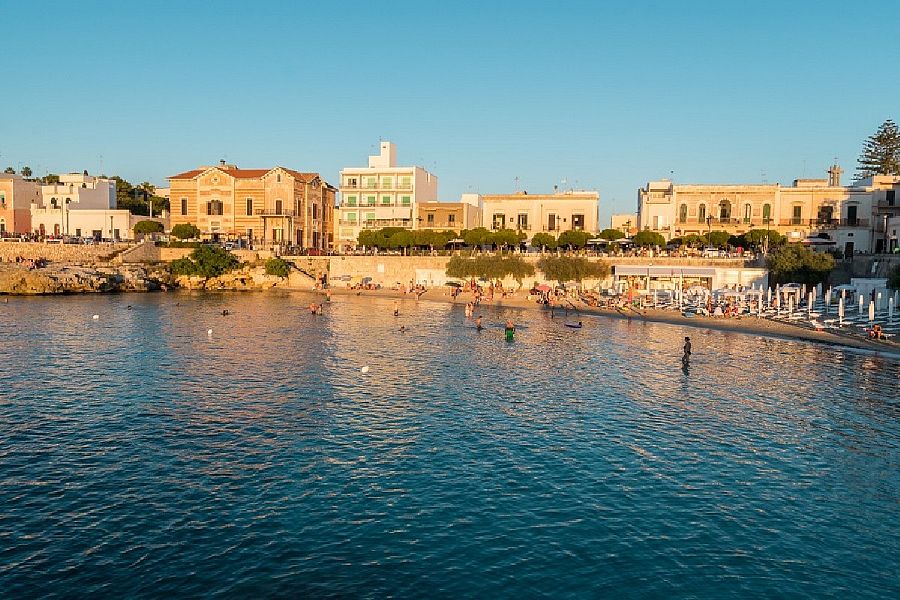 What seems like an ordinary seaside town actually holds some impressive history along with its beautiful waterfront setting. The town of Santa Maria al Bagno has a long history going back to prehistory and culminating in a distinguished honor at the end of WWII.
Today, the town unfurls along the rocky coastline as a fishing village on the Ionian Sea, with a pretty promenade, nice sidewalk cafes, and an arch of beach right in town. It is about seven kilometers from Galatone and Nardo' and attracts locals from those towns to swim in the clear water. There are about 950 inhabitants year-round but the number swells in summer months.
But prehistoric evidence puts the founding of the town to the Messapi people. There are ancient tombs outside town at Contrada Mondo Novo. In 272 BC, the Romans established a port here called Nauna, along with terme baths. Later, in the 1100s, an order of templar knights built an abbey and monastery and gave the town the name Sancta Maria al Balneum, and it became a stop-over for pilgrims. The town, along with many other along the coast, was plagued by raids by pirates and Saracens in the Middle Ages. It was sacked and destroyed, and the inhabitants moved inland. But in the 16th century Carlo V constructed an intricate series of coastal defenses, giving new life to the town. Here, the four towers were built not only to signal other towers up and down the coast but to protect the freshwater spring of the River Galatena. The towers still stand on the southern end of town.
With the new towers came new residences for noble families who wanted a seaside getaway, and the area began to grow as a resort destination. Besides the beach in town, lots of people love to sun on the rocks which also offer water access.
But history didn't stop there, because Santa Maria al Bagno, that had been a stop-over for pilgrims, again became a refuge from 1943-1947, when it housed thousands of Jews who had been liberated from concentration camps to provide them with shelter, medical care and a community until they could then begin their new lives, in America, Europe, Australia or Israel. Thousands were welcomed in the refuge "camps" but without fences or confinements. There is a museum and a mural in homage of these events, and the town was awarded the Medaglio d'Oro from the Italian president for their acts.
Toward the north side of town on the highest point is a tall cross, a beacon for sailors and a local landmark.
A day at Santa Maria al Bagno is a pleasant one, with its clean water, nice atmosphere, interesting sights and nice cafes.
Been there? Done that? Share your experience and tips!
Haven't visited yet? Have questions about Santa Maria al Bagno Nardo? Ask them here!