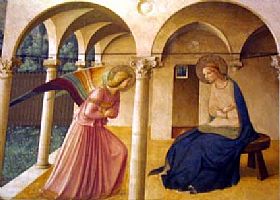 This stunning monument was founded in the XIII century and enlarged in 1437, when the Dominican monks moved there from Fiesole, coming at Cosimo il Vecchio's invitation, who called Michelozzo (his favourite architect) to finish the works, in 1444.
The lovely cloisters and simple cells became the ideal background of the outstanding cycle of frescoes made by Beato Angelico, renowned Florentine painter and Dominican friar. Nowadays the convent houses the Museum of St Marco with an incredible oeuvres' collection. Apart from the ticket office you'll find the magnificent cloister of St Antonino, by Michelozzo, dedicated to Antonino Pierozzi, the first prior of the convent (1389-1459). The splendid frescoes inside the cloister have been attributed to various artists, among which we must mention Beato Angelico and its fantastic "St Dominick knelt before Jesus". The door on the right side of the cloister introduces the pilgrim hospice hall, which has preserved two important works of art: "The Deposition from the Cross", altar-piece made by B. Angelico for the Church of St Trìnita; and the "Tabernacle of Linaiuoli" (linen makers) commissioned by the guide of the linen makers' guild, in 1433.
The gorgeous courtyard, on the right side of the ancient convent's bell, you'll find the amazing vaulted Capitular Hall, adorned by the impressive fresco "Crucifixion" (1442), made by B.Angelico, who got deeply touched while painting it.
A lovely wall of the small refectory shows a great fresco by Ghirlandaio, called "The Last Dinner" (1480). Through the courtyard's stairs you'll bump onto the first floor, where suddenly appears a fresco that is considered the most beautiful Renaissance painting of the whole city of Florence: the "Annunciation", made by the same Angelico in 1442.
The 44 dormitory cells had been outstandingly frescoed, from 1442 and 1445, by Angelico and his assistants, representing scenes of Christ's life. The cells from 1 to 10 have been attributed to the same Angelico, as well as the fresco portraying the Virgin Mary and the Saints on the right wall along the corridor. The cells from 12 to 14 were occupied by Savonarola, who became St Marco's prior in 1491 and instigated the Florentines to chase away the Mediceans, as supposed to be too dissolute. After destroying dozens of oeuvres, Savonarola was accused of heresy and sent to the stake in Piazza della Signoria, in 1498.
Along the third corridor, you'll see the fabulous library designed by Michelozzo in 1441 for Cosimo il Vecchio, whose accommodations at the convent were the cells 38 and 39, visibly larger than the bordering ones.
Been there? Done that? Share your experience and tips!
Haven't visited yet? Have questions about San Marco Convent? Ask them here!
Address in Florence:
Via Cavour, 56.
Ph. +39 055 267 6949.