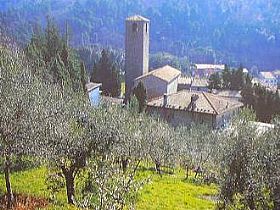 San Baronto, cosy lovely tourist resort where you will fully enjoy a relaxing vacation dedicated to tranquillity and total rest, far away from traffic, smog and noise. The village is set into an extremely suggestive natural environment, very rich in vegetation, with ancient woods that surround the single houses.
San Baronto, situated at 349 metres above the sea level, has been built around the main church, that used to be a monastery until the eighteenth century and a landmark for the entire community. The current church has been totally rebuilt after the last war, nonetheless you can still admire the crypt belonging to the original building, composed by five naves closed by three apses, that are separated by columns. The crypt has notable intact frescos dated at XIV and XV century.
You will also notice a marvellous painting representing the Virgin Mary in throne with the Saints Paul and Baronto: this fantastic work of art's been made by Tarquinius Gatius in 1603.
San Baronto is located along the pass of Montalbano, over which it's possible to go down to the valleys and reach Prato and Pistoia...for that reason this enchanting village is like a wonderful terrace ovelooking the plains around.
In summer, San Baronto is full of people from the surrounding areas that go there to enjoy a bit of the fresh and pure air and relax, that make this place so special!
If you love biking, you should know that San Baronto is a must for all cyclists, both amateur and professional, in Valdinievole. San Baronto is also well-known for the goodness of the local cuisine and prestigious restaurants and bars.
"Fierucola del lavoro ecologico del Montalbano" - the 1st of May - a special rendezvous for farmers, embroiderers, tessitrices, potters, forgers and carpenters, between thriving manual labours of the past and future. It

's a very suggestive event set in a splendid land and the grandeur of its woods.

San Baronto a Tavola - the last Sunday of August - when to taste the traditional delights of the ancient local cuisine.
Been there? Done that? Share your experience and tips!
Haven't visited yet? Have questions about San Baronto? Ask them here!
Explore nearby towns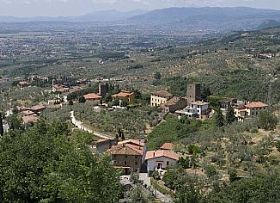 The village of Porciano belongs to the municipality of Lamporecchio, in the province of Pistoia.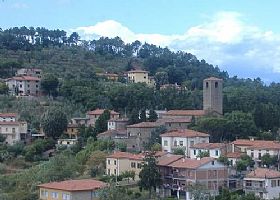 The charming village of Lamporecchio, located nearby the splendid naturalistic complex of Montalbano, offers the perfect balance between nature and culture.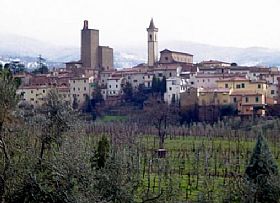 Vinci might have remained a sleepy, hidden Tuscan town if it hadn't been for the birth of a famous son.