Pomarance was one of the most important medieval castles of Volterra, and its name was given to a noted Renaissance artist. You can admire the works of Pomarancio in the Church of San Giovanni Battista, Palazzo Pretorio and Rocca di Silano. Located on the metalliferous hills of Pisa, the village has medieval origins.
However, archeological finds indicate that the area has been inhabited since 800 BC. In 1912, archeologists uncovered relics from the Neolithic period. The "Stele of Larthi Atharnies" was found in the area of Moscatelle, and currently on display in the Archaeological Museum of Florence, is very interesting. The Etruscan civilization did not fail to leave traces of its presence, either. In 1934, other excavations were found in the rectory of the parish church of San Giovanni Battista in Pomarance, revealing some Etruscan tombs from the 5th and 4th centuries BC. Other tombs were uncovered in 1969 in San Piero. These archeological sites are very interesting to visit.
According to some historians, the origin of the name is attributable to the fact that in the area in the late Middle Ages, were cultivated oranges. Yet others argue that the word derives from "Ripa Marrancia" or "left-handed rock", referring to the location on the left of the river Cecina.
The Romanesque church (12th century) in Pomarance maintains the original austere facade, while the interior was remodeled in the 18th and 19th century and is decorated with frescoes and high-quality works of art. The Coraggiosi theater (19th century) was built in the style of classic Italian theater with a horseshoe shape and three tiers of boxes. Recently renovated it is a wonderful place to see shows, concerts and cultural events. During the same period many of the palazzi that line up along the Via Roncalli, including Casa Bicocchi, a perfectly preserved residence, complete with all furnishings and open to the public. Palazzo Larderel, in neoclassical style, belonged to the Larderel family, while Palazzo Ricci, which houses the public library and an interesting collection of ceramics Pomarancina, dated back to the 16th and 17th century.
Been there? Done that? Share your experience and tips!
Haven't visited yet? Have questions about Pomarance? Ask them here!
Explore nearby towns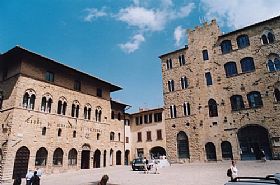 Magic and mysterious, the city of Volterra will surely enchant you at first sight.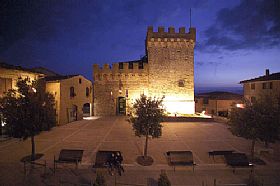 The lovely rural centre of Casole Val d'Elsa, near Siena, will enchant you with a mesmerizing landscape of green hills, colive trees and vineyards.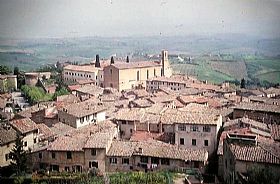 Castel San Gimignano is a charming, miniscule hamlet constructed in brick and set on a hill.