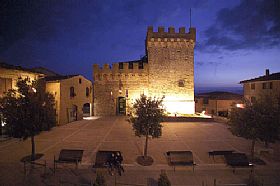 The lovely rural centre of Casole Val d'Elsa, near Siena, will enchant you with a mesmerizing landscape of green hills, colive trees and vineyards. It sits at at 417 metres above the sea level,
Casole has always represented a marginal land contended, from the beginning of the XIII century, between Volterra and Siena, and later inevitably involved into the battle between Guelphs and Ghibellines. In 1259, the Florentine troops conquered Casole, but keeping the power over the village for just one year. After a defeat suffered during the battle of Montaperti, Casole got in fact annexed to Siena, becoming a bulwark of the Senese Republic.
The ancient boundary nature is still evident into the current village conformation: Casole has preserved its town-walls almost intact, as well as the rest of the hamlet and the two circular towers designed by the famous Senese architect Francesco di Giorgio. Among the most ancient and fascinating buildings, we must mention the town hall, built in 1352 and subsequently reinforced by the citizens of Siena: the portal still shows indeed their black and white coat of arms.
You cannot miss the stunning Collegiata of St Maria Assunta, consecrated in 1161, where to admire beautiful oeuvres by Marco Romano, Gano da Siena and Rutilio Manetti. Beside the church you'll find the splendid archaeological museum with perfectly preserved lovely frescoes of the Senese Art and numerous findings, coming from the local necropolis, as witnesses of the Etruscan presence in Casole.
Casole Val d'Elsa's parton saint is St Isidoro, celebrated every year the second Sunday of July with a funny and enthralling Palio. Following the similar ancient tradition in Siena, the Palio in Casole is a bareback horse ride over a 900 metres course, accompanied by songs, dances and wine in floods.
Been there? Done that? Share your experience and tips!
Haven't visited yet? Have questions about Casole d'Elsa? Ask them here!
Explore nearby towns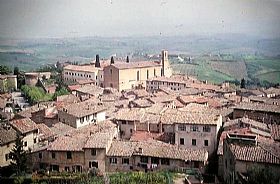 Castel San Gimignano is a charming, miniscule hamlet constructed in brick and set on a hill.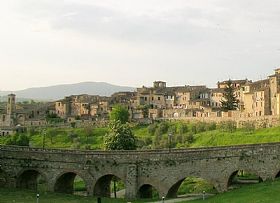 The medieval town of Colle di Val d'Elsa is set like a jewel on top of a high and evocative hillock, whose narrow valleys divide into three parts the fabric of the town.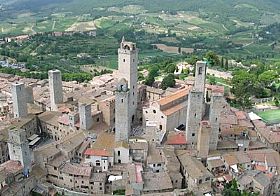 San Gimignano is one of the most famous small towns in Italy.