Pitigliano Synagogue and Jewish Quarter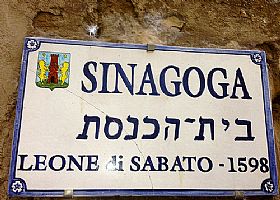 The pretty town of Pitigliano is perched dramatically on a cliff, and is known as "Little Jerusalem" for its Jewish heritage. The "Hebrew Quarter" is the most characteristic corner of the town with its narrow lanes and intriguing atmosphere.
There was a Jewish community in Pitigliano for half a millennium, a refuge with an active community. The Synagogue was recently restored, salvaging its original furnishings, including a plaque indicating the year of its founding as 1598. The Aron (ark) with the Torah, women's gallery and chandeliers are intact.
Pitigliano already had a Jewish presence by the mid-1500s but with the counter reformation, the town, along with neighboring Sorano and Sovana, under the aristocratic Orsini family, became a safe haven for those fleeing the Papal States, as well as exiles from Florence. The community flourished, and they built the synagogue, a school and a cemeterey. They opened trades and craftsmen shops. The Jewish Quarter became the center of cultural life and they grew to make up about 20% of Pitigliano's population. Anti-semitic uprisings and tormentings that occurred in other cities rarely touched Pitigliano, though the Medici family that took control of the area after the Orsinis established a ghetto and restricted their rights, the community continued to prosper anyway. In 1859 there were 423 Jews in Pitigliano and they were emancipated and given full rights.
The post-unification brought about emigration to cities and other parts of Italy, and the overall population of Pitigliano declined. The racial laws of 1931 and WWII brought the most radical changes in centuries to the community, who fled or hid with farm families and were generally assisted by their neighbors. After the war, 30 Jews returned to Pitigliano. Only a handful remain today, but they have carefully tended the synagogue and the cultural heritage of their people. The Synagogue has been restored and is open for tours, and there is a Jewish Heritage Museum, along with a kosher bakery and kosher wine by the local cantina.
Below the Synagogue are historic locales carved into the cliff's tufa rock, including the ritual baths, the old kosher butcher, a bakery -all restored in recent years to display the rich culture of the Jews of Pitigliano.
Been there? Done that? Share your experience and tips!
Haven't visited yet? Have questions about Pitigliano Synagogue and Jewish Quarter? Ask them here!
Address in Pitigliano:
Vicolo Marghera.