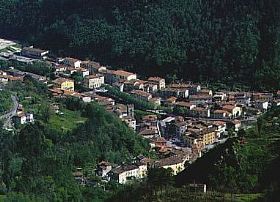 Seravezza, close to Lucca, is set like a gem among the huge rocks of the Garfagnana mountains. The hamlet shows a variegate orography, a complex and fascinating conjunction between the Apuan Alps' harshness and the narrow coastal plain, with lovely beach beauties.
It definitely is one of those rare and exceptional places where within a few Kilometres you could go from 0 to 1589 meters above the sea level, up to the peak of Monte Altissimo.
The territory consists of a large mountainous area - part of the Regional Park of Apuan Alps, characterized by dizzy rocky walls and the presence of the famous marble caves, fresh chestnut woods and limpid brooks – as well as a hill area, including the districts of Cerreta San Nicola, Fabbiano, Giustagnana, Minazzana, Basati, Cerreta Sant'Antonio and Azzano. There is a narrow stretch downhill, too with the villages of Riomagno, Malbacco, Corvaia e Ruosina; along with a level zone, rich in olive groves and huge country expanses.
The chief town – Seravezza – is a quiet and exclusive valley floor village, located as guard of the only way of communication between the Garfagnana region and the Tuscan coastline. At the centre of Seravezza is the river Versilia, bron from the confluence of the torrents Serra and Vezza. The toponym does not come from the union of the torrents' names: on the contrary, it was the village that named the torrents. Seravezza probably derives instead from the Lombard toponym "Sala Vetitia", referring to a trade centre.
Been there? Done that? Share your experience and tips!
Haven't visited yet? Have questions about Seravezza? Ask them here!
Explore nearby towns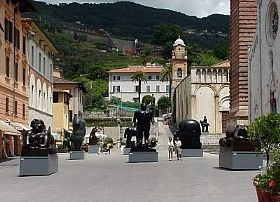 Pietrasanta, also called "The Small Athens", offers a great cultural and artistic heritage.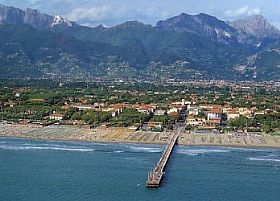 Delightful tourist destination, Forte dei Marmi is really enchanting, especially in summer, thanks to the beauty of the sea and magnificent background of Alps Apuane.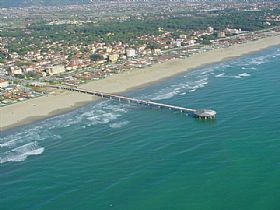 On Tuscany's Versilia coast, the town of Marina di Pietrasanta is a resort with some of the area's best beaches.