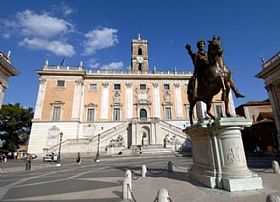 Piazza del Campidoglio, heart of Rome and seat of the local govern, was conceived by Michelangelo (1536) and might be considered maybe the highest representation of the Renaissance concept of "solemn piazza". The space was created between Palazzo Senatorio and Palazzo dei Conservatori bounded by a new symmetrical building. The piazza has a trapezoidal plant – the drawings on the pavement make it look egg-shaped – and three sides are surrounded by perfectly balanced buildings, while the fourth side, reachable from the street through a long a marvellous graded ramp, opens to the city with a terraced panoramic balustrade.
Michelangelo also designed the pavement in the center of which stands the equestrian statue of Marcus Aurelius, which survived the Middle Ages as it was thought that it represented the Emperor Constantine, the protector of the Christian religion.
The Palazzo Senatorio, on the longer side (the seat of the city council's administrative offices), was designed by Giacomo della Porta and Girolamo Rainaldi and built over the Roman "tabularium" (Record Office). The palazzo is preceded by a monumental double step, made by Michelangelo, and overlooked by the Torre Capitolini, by Martino Longhi il Vecchio (1582).
Two side edifices, Palazzo dei Coservatori on the right and Palazzo del Museo Capitolino on the left, are just identical and symmetrical, marked by high pillars, a portico and a series of windows revaling the grandiosity and plasticity f the structure, redeeming it from the modest size, in Michelangelo's style.
Placed obliquely, the buildings give a sense of largeness to the piazza, and intensify the great perspective and greatness. The architectural decor has reached the maximum splendour with the statues of the Dioscuri, the twins Castor and Pollux (sons of Zeus after he ravished Leda in the form of a swan).
In Rome, the inseparable pair is always represented with two faithful horses. In fact, this last pair of statues was commissioned by Pope Paul III to stand guard over the steps of the Campidoglio but their place was won by the current pair that was discovered during that period in the nearby Piazza Cenci: a sign of fate!
Been there? Done that? Share your experience and tips!
Haven't visited yet? Have questions about Piazza del Campidoglio? Ask them here!
Address in Rome:
Piazza del Campidoglio.