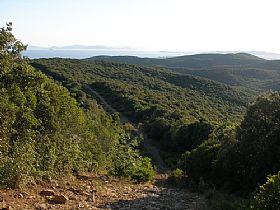 The nature preserve Parco di Montioni comprises more than 17,000 acres, stretching across forested hills between the Cornia and Pecora Rivers. Here, human intervention is expressly forbidden and no development can take place. It is left entirely in its natural state, with the only buildings being those of historic origins.
The park straddles two provinces - Livorno and Grosseto - and is near Follonica, Scarlino and Gavoranno. It occupies the higher points of the area with views across the valleys down to the Mediterranean Sea. The brush and trees are thick, where once the activity of the carbonari (charcoal makers) was prevalent. The men lived in the mountains and cut the trees, burning the logs slowly to make charcoal. There are also remains of mineral mining, a once-active trade in these rich hills. There are about 100 kilometers of trails weaving through the park, through the exotic species of pines and conifers, holm oaks, and cork trees. Wildflowers, gladiolas, and other fauna are prevalent. Butterflies, turtles, boar, and deer are common.
There are medieval towers scattered about, along with the crumbling castle of Monioni Vecchio, abandoned mines, and the palazzo that was the residence of Elisa Bonaparte, the sister of Napolean who was the Principessa of Piombina and then the Grand Duchess of Tuscany. She maintained her palazzo here along with her own private thermal spa.
The trails can be enjoyed by foot, on bike, or by horse. The area surrounding the nature preserve is covered with olive groves, vineyards and fields of grain, making for lovely panoramas. There is a picnic area within the park.
Been there? Done that? Share your experience and tips!
Haven't visited yet? Have questions about Parco di Montioni? Ask them here!