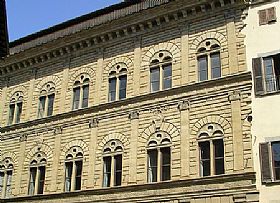 Palazzo Rucellai is one of the first examples of Renaissance architecture in Florence. Using the Colosseum in Rome as inspiration, architect Leon Battista Alberti employed proportion and symmetry to create an elegant residence. It replicates classical elements of antiquity in the arches and pilasters that front the facade. The three-story building uses larger blocks of stone on the ground floor to give an impression of height and solidity. The architectural orders change at each floor - Doric, Ionian and Corinthian respectively, which became the norm in Renaissance palaces after this.
The front is flanked by two long benches, which are still popular for resting the feet after sightseeing or for sitting and chatting. The Renaissance courtyard inside the building is characterized by arcades supported by Corinthian columns. A cross-vault links the courtyard to the street, via della Vigna Nuova. Inside the palace are frescoes and vaults as befitting a patrician home. Eight individual dwellings once occupied the space on the block where the palazzo sits.
Across the street is the charmingly elegant Rucellai Loggia, which was built at the same time and used for ceremonies and parties. The palace's owner, Giovanni Rucellai, also commissioned Leon Battista Alberti to construct another Florentine monument, the church of Santa Maria Novella.
Palazzo Rucellai is one of the city's oldest and most prestigious palaces, a witness to centuries of a history, and the Rucellai family continues to live there. It's symmetry and style set the tone for future patrician palaces in Florence throughout the Renaissance period.
Been there? Done that? Share your experience and tips!
Haven't visited yet? Have questions about Palazzo Rucellai? Ask them here!
Address in Florence:
Via della Vigna Nuova, 16.