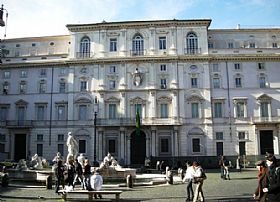 Palazzo Pamphilj is a palace facing onto the Piazza Navona in Rome. It was built between 1644 and 1650.
The Pamphilj, noble family from Gubbio, which had existed since 1150, moved to Rome in the fifteenth century with Antonio (tax attorney of the Apostolic Chamber) who willed to build the bases of Palazzo Pamphilj. In 1470, he bought a house in Piazza del Pasquino and in 1478 some houses nearby. His son, Angelo, extended the family estates onto Piazza Navona and introduced himself into the Roman nobility with an clever matrimonial strategy. At the end of the sixteenth century, the Pamphilj's properties increased significantly, but with only a modest mansion in Piazza Navona.
Giovanni Battista Pamphilj in 1644, after his election as pope with the name of Innocent X (1644-1655), unified the properties making an impressive building designed by Girolamo Rainaldi. Its realization also saw the participation of Borromini. The building was then donated to Olimpia Maidalchini, dubbed by the people "the Pimpaccia of Piazza Navona" for her unsavoury deals. When the Pamphilj's died out in the Doria family, who chose the house in Via del Corso as residence, the building was used to house cardinals and writers. Shortly after the mid-nineteenth century the Accademia Filarmonica Romana and then the Musical Society Romana settled there. In 1960 the Brazilian government purchased the building to make its own embassy in Italy.
Palazzo Pamphilj spread horizontally along Piazza Navona and consists of a central body, articulated by pilasters and blind arcades, with a central balcony on the piano nobile, supported by four columns above the rusticated arched portal. On the first floor there are windows with alternating triangular and scalloped gable, on the second floor there are windows decorated with shells frieze moulding and dominated by the mezzanine small windows with the large Pamphilj's coat of arms at the center - consisting of three lilies on a dove, with a olive branch in its beak. Above the cornice there is a grandiose crowning loggia with three arches and two windows. At the sides of the central body there are two identical three-storey buildings, with two portals framed and topped by a balcony.
For visits in Italian or other languages you should contact the Embassy Cultural Office. Please find below their email address and telephone number.
Been there? Done that? Share your experience and tips!
Haven't visited yet? Have questions about Palazzo Pamphilj ? Ask them here!
Address in Rome:
Piazza Navona.
Ph. +39 0668 3981.