Palazzo Farnese of Caprarola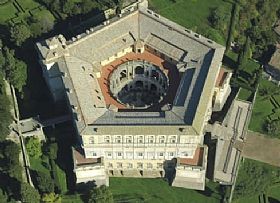 The Palazzo Farnese of Caprarola is one of the best examples of Renaissance mansion, built for the Roman Farnese family in Caprarola. The construction of the building - with its distinctive pentagonal shape - was entrusted from Alessandro Farnese (who became Pope Paul III) to Antonio da Sangallo, who began working around 1530 and, after a break, it was completed at the behest of Alessandro Farnese (the grandson of Paul III), which commissioned the execution to Jacopo Barozzi da Vignola.
The study by Vignola, as evidenced by a series of writings and projects started before 1555, so the building is a combination of military and civil architecture. Ramparts, moats, walls and drawbridges give the idea of a military fort, gardens, while elegant architecture and artistic masterpieces, give an idea of the palace.
It was finished in 1575, although further finishing work continued until 1583. The final version of the part in front of the building and completion of the gardens, in fact finished by Jacopo Del Duca and Girolamo Rainaldi, dated back to many years later. Many painters and artists worked over twenty years to the creation of the iconographic cycle. Federico and Taddeo Zuccari, Antonio Tempesti, Jacopo Bertoia, Raffaellino da Reggio, Giovanni Antonio da Varese, Giovanni de Vecchi and many others.
The building is composed by five floors. Basement: accessed from the large square in front of the Palace, through a large portal called "il Facchino" or by an underground corridor that starts from the so-called "Cantinone". It was mostly used as kitchen, mills, warehouses and storerooms. Piano dei Prelati: it is accessed through the main door, through a bridge or the Scala Regia, which starts from the Basement. It consists of several rooms: Entrance Hall, Courtyard with arcade room, Sala Giove, Appartamento dell'Estate, Cabinets of the Prelates and the Appartamento d'Inverno. The Scala Regia, a masterpiece by Vignola, is helical with 30 Doric columns, all in gray tuff, and totally frescoed.
Piano Nobile: accessed via the Scala Regia through the second tier of the porch. The interiors of this plan are divided into two types: boardrooms and private apartments. The boardrooms are: Sala d'Ercole, Cappella, Sala dei Fasti Farnesiani, Sala del Concilio, Sala degli Angeli and Mappamondo. Piano dei Cavalieri is accessed from the balcony above the portico and consists of 61 rooms. Plan of Staffieri: accessed from the staircase called "il cartoccio" and consists of 26 rooms with small windows just below the cornice of the building.
The Upper Gardens are a superb example of Italian garden, with a series of fountains, shelves, statues and an elegant house, creating a deep fascination for the visitor, which is nestled in a setting of rich green.
Been there? Done that? Share your experience and tips!
Haven't visited yet? Have questions about Palazzo Farnese of Caprarola? Ask them here!
Address in Caprarola:
Via Antonio da Sangallo.
Ph. +39 076 164 6052.