Museum of the Mediterranean Diet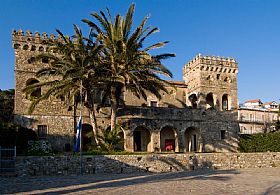 In the seaside village of Pioppi is a unique museum - one dedicated to the Mediterranean Diet. Pioppi is an idyllic fishing hamlet that is administratively part of the town of Pollica, in the Cilento Coast south of Salerno. The museum is housed in the 17th century Palazzo Vinciprova, right on the seafront, and pays homage not just a way of eating but a way of life.
While it's focus is what has become popularized as the Mediterranean Diet, it also is a tribute to the man who made it an internationally famous nutritional style, Ancel Keys. The American physiolgist was an eclectic man who studied political science and economics before turning his focus to biology, oceanography, and human physiology. He took particular interest in dietary and nutritional science, and while working with the US government, put the "K" in the famous military "K-Rations," the portable meals that GIs took with them to war.
Keys and his wife moved to Pioppi to live among a healthy population that enjoyed longevity-and to research what effects nutrition and lifestyle played in their wellness and longevity. He discovered the contrast that the post-war American diet that was ever richer in fats and packaged foods was leading to increased heart disease, while the traditional diet here that was practically pure from those factors, led to longevity. He noted that healthy eating as practiced here, along with daily walking and physical activity (in the form of labor or exercise) was the key to a long and healthy life. He documented his findings that became a passion in his book, East Well, Stay Well -The Mediterranean Way. Keys himself was an avid practitioner and lived to 101 years old.
The museum is a legacy to carry on the task of promoting a healthy lifestyle. It covers not just the gastronomic culture of the area, but also the economic, social, historical and geographic aspects of the 1000-year tradition that is based on fresh fish, locally grown vegetables and fruits, legumes, pasta, moderate wine, local cheese, olive oil, and a little meat. The museum focuses on the three aspects of Pleasure, Wellness and Culture.
A visit to the Cilento is well rewarded by a trip to Pioppi, to enjoy the sunshine, the crystal water, the hills that tumble down to the sea spotted with orchards and vines, and an appreciation for the area's culinary traditions.
Been there? Done that? Share your experience and tips!
Haven't visited yet? Have questions about Museum of the Mediterranean Diet? Ask them here!
Address in Pioppi:
Via Caracciolo, 192.
Ph. (+39) 097 490 5059.