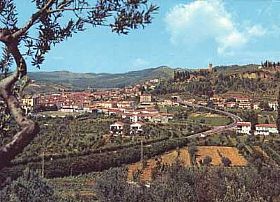 Near Florence is the medieval hilltop town of Montelupo Fiorentino, with old world ambiance and interesting sights. While developed in the Middle Ages, it has clear early-Etruscan origins. Montelupo is known for its quality Chianti wine and ceramic production.
Archaeologically speaking the town and surrounding area are very interesting, with findi dating back to the Palaeolithic, Mesolithic, first Neolithic and Iron Age civilizations. Excavations were carried out in the early 1970's, and what has been found ascertained Etruscan and Roman presences as well.
Like the majority of Tuscan towns, Montelupo's current town foundations date back to the Middle Ages, whenthe castle was built, then renovated and enlarged by the Florentines in 1204. During that period the manufacture of enamelled ceramics was profoundly undertaken here, especially productive in the 1400s and 1500s. Much of the town was constructed around the Priory of Saint Lorenzo, and became more and more an out-base of industry of Florence, which largely dominated the hamlet's governing and culture.
During the XVII century, the ceramic production and distribution grew and expanded: on one side the Medici's wanted high-value decorations, and glazed artistic ceramics for the Church of St Maria Novella or floor tiles to pave their own villas; on the other side, even the cheaper, humbler production for regular households increased exponentially. Despite changes in the markets and tastes over the centuries, Montelupo has never let their traditional craft fade and still produce quality wares. There is a museum dedicated to ceramics.
Around town, the pastel-stuccoed buildings make the streets a colorful delight to wander, with shops and cafes to enjoy along the way. Be sure to see the Rocca (castle) where the original settlement was located, and the Church of San Giovanni Battista (St. John the Baptist) dedicated to the town's patron saint. The Villa Medicea Ambrogiana was a Medici family villa built at the confluence of the Arno and Pesa Rivers, with well-planned and tended gardens. While it is a medical facility, there are dates that the garden and some of the salons are open to the public. There is also a nice archeological museum in town. Biking paths lead around the area and within town.
In the area there are many of Tuscany's premier sights in a short distance. Florence, of course, and Empoli, while to the south are the beautiful hills of the Val d'Elsa, San Gimignano, the Chianti zone, and much more.
Been there? Done that? Share your experience and tips!
Haven't visited yet? Have questions about Montelupo Fiorentino? Ask them here!
Explore nearby towns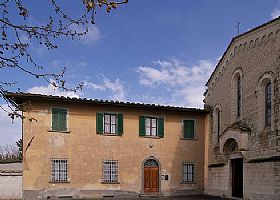 Martignana is a pretty district of Empoli, in the Tuscany region, at about 50 km from the city of Florence.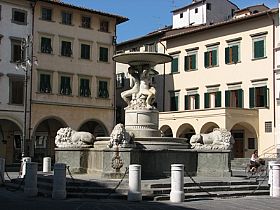 Empoli is a lovely mid-sized town equidistant from the main Tuscan cities.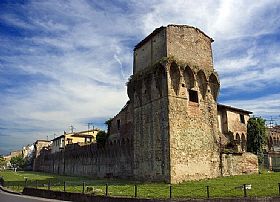 Just west of Florence is the historic town of Lastra a Signa, a picturesque place with its protective walls and towers intact.