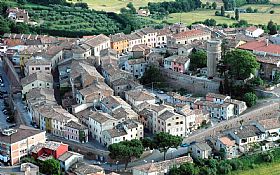 A cute hamlet in the hills just inland from the Adriatic Sea, Mondolfo is listed as one of Italy's prettiest towns. The compact center still retains its walls and Old World charm, capped by a castle. Its streets are lined with brick and pastel buildings, and there are panoramas of the surrounding hills and the sea from the ramparts of town.
The Palazzo Municipale with its civic tower sits in the middle as Mondolfo's focal point. The castle, once the noble residence of the powerful Della Rovere family, was a seat of power, a defensive structure and the summer home of the dukes. Below is the 16th century military structure that quartered the soldiers and horses, the Bastione di Santa Anna, now a beautiful exhibit hall and garden. Mondolfo had allegiance to the Papal State and so enjoyed a few centuries of peace rather than the usual tensions and invasions that many other cities endured.
Don't miss the monastery complex of Sant'Agostino, built in 1291. The church in the complex, Santa Maria del Soccorso, has a Renaissance facade, an ornate wood altar canopy, walnut choir and vivid paintings by regional artists. The next-door convent has a quiet cloister with a water well in the middle.
Downhill at the coast is the beach town of Marotta, which is part of Mondolfo's administrative domain. The resort has wide sandy beaches that spread out for miles, offering shallow swimming that is perfect for families, with lines of shops and restaurants to serve sun-seekers. Games, entertainment, concerts, and events are offered throughout the summer months.
Been there? Done that? Share your experience and tips!
Haven't visited yet? Have questions about Mondolfo? Ask them here!
Explore nearby towns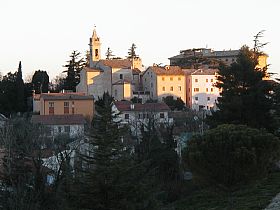 Monterado is a brick-built hilltop hamlet in northern Le Marche.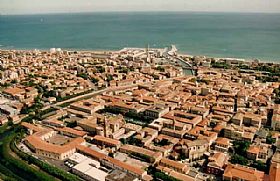 Sprawling along the Adriatic shore, Senigalli has a dual identity of modern city and old historic center.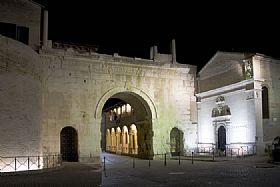 The city of Fano sits along the Adriatic Coast of Le Marche, but it's more than a mere beach town.