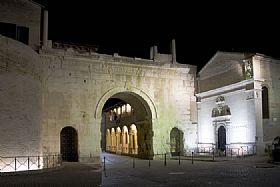 The city of Fano sits along the Adriatic Coast of Le Marche, but it's more than a mere beach town. While it boasts wide, sandy beaches that draw international sun-seekers, Fano is an historic place.
Established by Julius Caesar in 49 BC, it was named Fanum Fortunae and a temple called Tempio della Fortuna was built in gratitude for the Roman victory over Carthage troops in the battle of Metauro. Roman soldiers were awarded land for their efforts, eventually building a wall and being elevated to status of colony. Caesar Augustus bestowed the city with fortification walls and the grand Arco d'Augustus, the primary gateway into Fano, that is still the symbol of the city. Portions of the monumental walls can still be seen.
The heart of Fano is Piazza XX Settembre with the Palazzo del Podesta', a Romanesque-Gothic palace built in 1299 that the city's medieval rulers used. The building was turned into an opulent theater, the Teatro della Fortuna. The Fontana della Fortuna splashes water in the middle of the piazza, with its bronze statue dedicated to the goddess. The Rocca Malatesta fortress along with palaces and courtyards enhance the city's splendor. The monumental complex of the church and loggia of San Michele is an architectural highlight, and the hermitage, the Eremo of Monte Giove has a spiritual feel in its tranquil park and cloister.
But despite the historic sights, Fano is best known as a seaside resort where beach-goers come for summer fun. There is a waterfront piazza for warm weather entertainment, rows of umbrellas and chairs for rent, and free beaches, too. There's no lack of restaurants and cafes, either.
Fano is located in northern Marche, between Pesaro and Senigallia.
Been there? Done that? Share your experience and tips!
Haven't visited yet? Have questions about Fano? Ask them here!
Explore nearby towns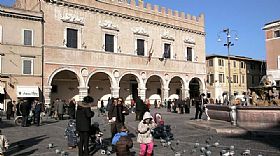 This bustling city of 94,000 people is the second largest in the Marche region and blends a charming historic center with a busy port and light industry.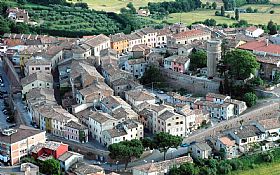 A cute hamlet in the hills just inland from the Adriatic Sea, Mondolfo is listed as one of Italy's prettiest towns.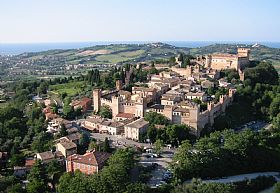 The cute, compact town of Montemaggior al Metauro sits on a "balcony" in northern Le Marche.