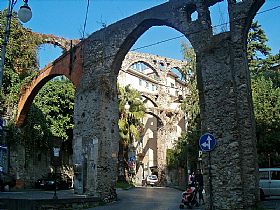 The aqueduct was built to supply water to medieval Salerno in the ninth century. The monastery of St. Benedict, near the eastern walls, was the primary beneficiary of the precious water it transported. It consists of two branches, one coming from the hills to the north, the other from the heights east of the city. These two aqueducts culminated at Via Arce, at one corner of the ancient city walls. At first, the aqueduct supplied only the Benedictine monastery; an underground canal from it later was added to supply the convent of Piantanova in Via Mercanti.
The arched aqueduct was dubbed "the Devil's Bridge". According to the legend, it was built in one night, with the help of demons, by a well-known magician of 12th century Salerno, Pietro Barliario. Popular superstition also held that venturing under the arches between dusk and dawn would have brought personal encounters with devils or evil spirits. It was close to the highest sector of the city walls, an area that was largely uninhabited, which probably helped contribute to the legend of the aqueduct as a creepy, demonic place.
Today, the remnants serve as a reminder of the gracefulness of ancient architecture and the ingenuity to bring water from the hills to town. It is located at the intersection of the Old Town where Via Arce, Via Velia and Via Fieravecchia come together.
Been there? Done that? Share your experience and tips!
Haven't visited yet? Have questions about Medieval Aqueduct? Ask them here!
Address in Salerno:
Via Arce.