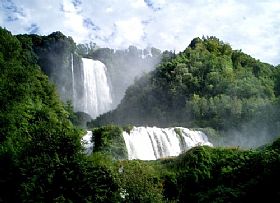 The natural spectacle of Marmore Waterfalls – 165-meter-high jumps – is definitely one of the most impressive and interesting in Europe, as well as the tallest man-made waterfall in the world.
The Roman consul Manlius Curius Dentatus ordered the construction of a canal (the Curiano Trench) to divert the stagnant waters into the natural cliff at Marmore (Cascate delle Marmore in Italian) in 271 BC, in order to carry the water of the River Velino into the river Nera below. At that time the work was heralded as a great event and certainly contributed to strengthen the prestige of Rome among the inhabitants of Umbria, recently conquered. But the popular imagination prefers to give it a mythological origin: according to the legend, the nymph Nera had fallen in love with a shepherd, Velino, but Juno as a punishment for that love story, transformed her into a river, the Nera. Velino, anguished, threw himself down from the Marmore cliff in order to be united with his beloved: that mortal jump would continue for eternity.
Whoever visits Cascate delle Marmore has the opportunity to take wonderful trekking paths, along which to admire lovely natural travertine grottoes, to reach the "Balcone degli Innamorati" (balcony of the lovers)e il "Giardino Botanico" (botanical garden), rich in spontaneous flora, but also access the whole panoramic points until the heart of the Cascata.
Cascate delle Marmore is just ideal to practice water sports like rafting, kayak and canyoning: the several sport centres in loco offer guided tours in order to experience the emotion of trying once at least, for beginners and babies.
Along its route there is a luxuriant vegetation of willow trees, holm-oaks, alders, oak trees, maples and beeches and a great water fauna. You will find the falls at 7 Km from Terni, whose electric, electrochemical, iron and steel industry fields are fed by the water energy.
Been there? Done that? Share your experience and tips!
Haven't visited yet? Have questions about Marmore Waterfalls? Ask them here!