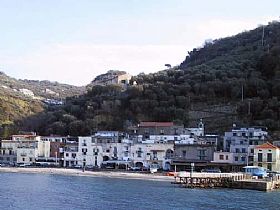 Marina di Puolo, is a delightful small fishing village with a population of about 150 people, tucked in a cove. Located between on the Costa Lubrense between Sorrento and Massa Lubrense, it was the private hideaway for a notable Roman politician named Pollio Felice who built a luxurious villa here. There wasn't a village, just his secluded refuge, that later came to be referred to by his name (or a derivative of it).
The villa dominated the whole bay from Cape of Sorrento to Cape of Massa Lubrense, surrounded by wonderful gardens and vineyards, plenty of art, adorned with splendid rich, colorful marbles from the Mediterranean- an ideal getaway for relaxation, so loved by Romans.
The area was disputed over by Massa Lubrense and Sorrento and eventually divided between the two towns in 1628 using a natural boundry -a small river within the bay-to demark the territory. That border is still the marker between the cities, even though the river does not exist any more.
The remains of the villa are still visible, and it took many centuries before a village was established here. Eventually, fishermen built homes here and a hamlet developed. Even though it's a very popular beach on the coast, it has managed to keep its small fishing village characteristics and charm. The residents maintain it as a nice and cozy place, and Marina di Puolo is now also pretty well-known for its cuisine, obviously seafood-based. Restaurants put tables right out on the beach!
Marina di Puolo remains vibrant and alive even in winter time, thanks to its marvelous, protected position in a cove between two promontories, that helps it feel almost summer-like even in the off-season. The water, sparkling in the winter sun, looks even more crystalline and clear then ever. On those sunny days, bars and restaurants are open and it's easy to find someone to hang around with enjoying their friendly company, their stories and jokes made special by a glass of red or white local wine.
It's a great place to feel like you've gone back to the early 1900s when the entire coast was still mostly made up of small fishing villages like this one.
Been there? Done that? Share your experience and tips!
Haven't visited yet? Have questions about Marina di Puolo? Ask them here!
Explore nearby towns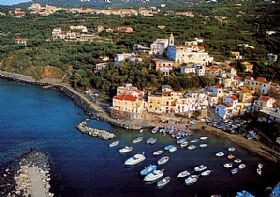 Marina della Lobra is a small port and historic seafaring village belonging to the municipality of Massa Lubrense.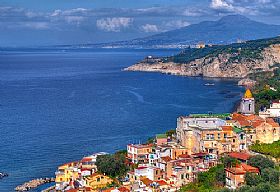 Massa Lubrense is popularly known as the legendary Land of Sirens (from which it derives the toponym of "Sirenusion").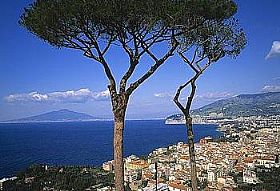 Sorrento is one of Italy's most famous resort towns.